How to make your next event more sustainable
It's no longer acceptable to gloss over sustainability issues when planning events – taking visible, positive action is an absolute must. So now's the time to ensure you and your event don't get left behind! But how should you go about it?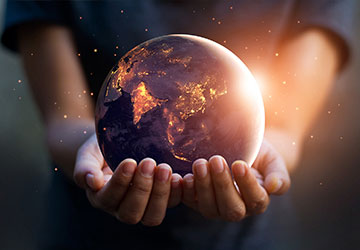 The environmentally-conscious event trend is continuing to grow in 2020, and it's time to get on board.
Both businesses and consumers want to see how event organisers are reducing their carbon footprint and the industry knows it – a recent Eventbrite survey showed 69% of event planners will be focusing on sustainability this year. 
Environmentally-friendly events don't just help save the planet and make people feel good. They can also increase creativity and morale – and boost a company's reputation, leading to more business and increased ROI. 
Here's some advice from the Kina Events team about how you can make your events more sustainable:
Create a plan with achievable goals
Taking a sustainable, eco-friendly approach to event planning should be an integral part of your event objectives, not just an after-thought. 
So, right from the start, get into the habit of sustainable thinking. Consider all aspects of your event and how they might affect the environment. What can you do to reduce this impact? Set milestones and goals you can build on each year. For example, you could set a goal for zero food waste within three years with smaller milestones along the way.
Don't be afraid to start small – after all, you don't want to lose sight of the event itself and what you want it to achieve. It's best to make small, realistic changes and measure how successful they are.
Involve your contractors
Review the contractors you use and ask them to include ethical credentials in their business pitches – for example, how do they dispose of their waste and do they use green energy? Add clauses to contracts to ensure your sustainability requirements are met.
Choose the right venue
Find a venue that's easily accessible by foot, cycle or public transport and encourage people to avoid travelling alone in their cars. Promote car sharing or provide coaches powered by fossil-free fuel. 
You could also consider holding your event at the same place your guests are staying to minimise travel or, if needed, organise a coach shuttle service between locations.
Live stream the event for people who live further away or would have to get on a plane to attend in person. 
Pick an appropriately sized venue – if it's too large you'll be wasting energy on heating and lighting. Look out for LED sensor-operated lights and smart room temperature controls which also help cut energy-use.
Check the venue's environmental policy – do they hold any sustainability certifications? Do they use a green energy supply? Ask if they use locally-sourced food and environmentally-friendly cleaning products and toiletries.
You could even consider using a venue with environmentally-friendly landscaping that encourages biodiversity and uses drought-resistant plants to reduce the need for watering.
Keep landfill to a minimum
According to meetgreen.com, each conference attendee typically produces 1.89kg of waste per day, of which a shocking 1.16kg will go directly to landfill. 
So it's vital to think about the lifespan of each item you order and where it might end up. Is it really necessary to hand out goodie bags, for example? If you have exhibitors at your event, encourage them to reduce these handouts which so often end up in the bin. 
Instead of giveaways and gifts for speakers and VIPs, you could make a donation to charity. 
Use projection mapping instead of printed stage sets and displays. You could also re-use or upcycle event furniture instead of buying new – and ensure you can use it again. If that's not possible, donate it to schools, charities and community groups.
Serve milk (dairy or plant-based) for tea and coffee in jugs and sugar in bowls to save on packaging and reduce waste – and choose food products with reusable, biodegradable or recyclable packaging. 
Promote recycling
Provide lots of brightly-coloured recycling bins for your guests to use, with simple, clear signs explaining what needs to go in each bin. Also ensure your caterers and other behind-the-scenes helpers have easy access to recycling bins.
Join a recycling campaign to support the message and help educate your attendees.
Cut down on plastic
Offer mugs instead of single-use coffee cups and avoid disposable plastic cutlery and straws. 
Provide water refill stations and sell reusable stainless steel water bottles and/or ask guests to bring one with them. Supply glasses and water jugs in meeting rooms.
Plastic name badges often end up in the bin immediately after events – consider collecting them from attendees so they can be reused, or source one of the many alternatives; there are electronic and washable versions and some are now made from cork, wood or laminated polyester and recycled paper.
Go paperless
Cut down on paper and printing by using an event app or web page to communicate with attendees. Also, set up a social media group so they can discuss the event and organise lift shares. This will also increase event engagement!
Opt for an e-ticketing system that can be scanned from guests' phones without the need for printing.
If you have to provide some printed documents, use recycled, environmentally friendly paper and ink, order as few copies as possible and if there are any leftovers, ensure you re-use or recycle them.
Consider sourcing digital or erasable whiteboards for meetings and design reusable signage.
Find a venue where they can provide cloth napkins instead of paper, and ensure they can provide washable towels and recycled toilet paper – it all helps!
Make responsible food choices
Choose seasonal, organic, locally-sourced, higher animal welfare produce and sustainably-sourced fish and seafood. 
You could consider offering an entirely vegan or vegetarian menu, or if that's a step too far for your audience, champion plant-based or vegetarian choices to help reduce CO2 emissions from meat production. 
Events are notorious for wasting food. Take care not to over-order and if you do end up with leftovers, donate it to a local foodbank, charity or social enterprise – or at least compost everything you can.
Some companies will even cater using food waste – or source wonky fruit and vegetables that won't make it to the supermarket. 
Look for sustainable caterers and restaurants who, for example, commit to producing zero waste. The Sustainable Restaurant Association has a list of restaurants who have good environmental policies.
What next?
There's a huge amount to think about here, so we recommend that initially you choose just one or two areas to focus on and measure. 
We hope you're successful in doing your bit for climate change and making your events more sustainable. Good luck!
---
If you have any questions, need further advice or would like some help planning your business events, please contact the Kina Events team on 020 7205 7901 or send us an email.
Share
At the beginning of the year, many companies start to think strategically about trade shows that are coming up in their industry, and how to make the most of them.
At Kina Events we are London-born and bred and so, unsurprisingly, rather proud of our wonderful home city. This week we have curated a list of some of the often-overlooked event venues in London that can help add a little interest to your event.
STAY UPDATED
Be the first to know about our latest news and events.
{"popup_ID":360,"when_popup_appear":"scroll","delay":"","x_second":"","x_scroll":"30","disappear":"","exptime":"10","hideclsbtn":"","clsonesc":"1"}