Accommodating dietary issues at events
Many a joke has been made about the dietary requirements of individuals in this day and age (we all know it can be a nightmare sometimes…!), but the truth is never before have we been quite so empowered to control our diets. This is, in our opinion, extremely positive.
However, it can make organising an event with more than say….two people a little tricky, to say the least! But, panic not….the team here at Kina events have your back so read on to find the best ways possible to take control of your event – and ensure it is remembered for all the right reasons.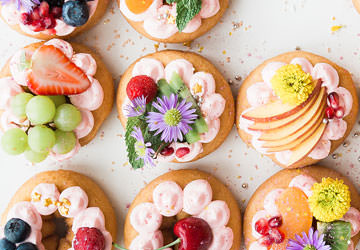 Knowledge is power
Make sure on the questionnaire or invite you send out to any attendees (or any of the initial literature) that you're asking about any dietary needs a guest may have. Ask as early as possible. It's definitely easier to have a drop-down menu or checklist here, rather than open-ended questions, which can leave far too much room for interpretation.
This knowledge should help you to be prepared from the outset – allowing you to work with your chefs and within your budget to accommodate any dietary needs. Make it clear in this first step that any preferences or allergies NOT mentioned may not be accommodated for during the event, and also give attendees a deadline – this should help ease your burden a little.
Label everything!
Often events have buffets where guests simply end up thrusting their spoon in and hoping for the best! This confusion can easily be mitigated by labelling each food and perhaps more importantly, if it appeals to a certain diet (gluten-free, dairy free or vegan). If you have a menu, it may seem rather tiresome, but listing the ingredients can help ease any anxieties and create a far smoother event.
Menu
Definitely speak to your venue or caterer about this one, but one of the easiest ways of mitigating risks is by having a simple menu that avoids any of the major or most common allergies i.e. – shellfish, nuts etc – as well as always having a vegetarian option. Preferably on that isn't the 'standard' option. Ask any vegetarian friend, and they will tell you they are 'over' mushroom risottos at events!
Unless your specific event is gastronomically centered and requires an elaborate five-course menu complete with foie gras and truffles, keep it simple kids! Stick with salads, grilled vegetables and some variety and you can't go far wrong. Healthy, low-fat options are also on trend right now.
Communication
Make sure your staff are aware of any food allergies or intolerances and that they know precisely what food you are serving and what's inside. All catering staff should be fully prepped and primed to deal with any issues, but it really is up to you to flag up any potential issues and make sure any special food goes to the right person.
You'd be amazed at how often meat eaters will grasp for the vegetarian's onion bhajis. Leaving your poor vegetarian with either nothing they can eat, or no choice at all. If guests have a choice, perhaps put the vegetarian food in a less obvious spot, so others do not gobble it up straight away!
Be upfront
Whether it's getting Kosher food delivered to a small hamlet in Scotland or simply forgetting that someone is celiac, be honest. Go speak to the person (either before or during the event) and explain the situation and try to find a workable solution. Most people want to be helpful and really will appreciate your honesty – so be gracious and kind. It should help and at the very worst, ease a challenging situation.
If you have any further questions, please contact the Kina Events team on 020 7205 7901 or send us an email.
Share
I have long been fascinated by customer service in, I admit, a slightly geeky way. In my opinion, terrible customer service is widespread in the UK – we deserve better! – it gets me really hot under the collar.
Why simply 'getting to Friday' has become your biggest events challenge...
STAY UPDATED
Be the first to know about our latest news and events.
{"popup_ID":360,"when_popup_appear":"scroll","delay":"","x_second":"","x_scroll":"30","disappear":"","exptime":"10","hideclsbtn":"","clsonesc":"1"}