Coronavirus and events: the show must go on(line)
We hope you're all well and keeping safe during the current crisis.
We're all going through a period of rapid change both in our business and personal lives, including those of us involved in the world of events.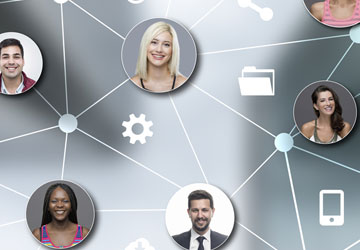 With in-person events now out of the question for potentially many months ahead, there's no doubt the events industry is facing one of its biggest ever challenges.
Event profs are all about bringing people together and now we can't.
Or can we? Can we still engage with people, just in a different way?

Human connections are vital in any business
It's still important – if not more important – now we're isolated from one another physically, that we find other ways of 'getting together' to ensure engagement is not lost.
We can't be in the same room as one another, but we can still meet virtually.
Many of us are already doing this in our personal lives through video conferencing apps like Zoom, making appointments with friends and family for regular catch ups.
These human connections – hearing a friendly voice, seeing a familiar face – are important to us all.
Businesses are also creating new virtual communities.
As you might expect, the UK's fitness instructors and yoga teachers have been extremely agile: many of them have moved their classes online in an attempt to salvage at least some income during the coronavirus crisis.
Theatre companies who have been forced to close their doors to live audiences have also acted quickly, and are allowing arts fans to watch recordings of past shows online.
It's usually free to watch, but theatres are asking for donations to help them survive the devastating impact of Covid-19.
Are you considering making the switch to virtual events?
In times of uncertainty it can be tempting to delay decision-making, but you'll know it's during challenging times like these when businesses need to be most proactive and innovative.
We all need to find new and creative ways to interact with our customers, motivate staff and communicate with clients.
Nearly any event can be hosted online, whether that's via a simple video streaming service, or a more dynamic virtual event platform.
It's possible to hold meetings, give presentations, live-stream video content or network with potential clients – and no one has to leave home.
As well as allowing businesses to 'get people together' safely, there are many other benefits to online events, including:
They're cheaper than physical events (eg. no food provision, travel or printing required)
For the same reasons, virtual events are better for the environment
They provide metrics which prove the event's return on investment.
Connect with people through an online event
So, even amongst all the current uncertainty, it's entirely possible for companies to continue interacting with their audiences.
In the coming weeks you may be considering alternative ways to communicate creatively with your customers, clients and staff.
Please don't hesitate to get in touch with us at Kina Events and we'll be happy to discuss how we can help you.
Share
At the beginning of the year, many companies start to think strategically about trade shows that are coming up in their industry, and how to make the most of them.
At Kina Events we are London-born and bred and so, unsurprisingly, rather proud of our wonderful home city. This week we have curated a list of some of the often-overlooked event venues in London that can help add a little interest to your event.
STAY UPDATED
Be the first to know about our latest news and events.
{"popup_ID":360,"when_popup_appear":"scroll","delay":"","x_second":"","x_scroll":"30","disappear":"","exptime":"10","hideclsbtn":"","clsonesc":"1"}