17.11.22 - Better events Christmas Entertainment News Venues
Four alternatives to the traditional Christmas party
Are you looking to celebrate Christmas with colleagues but want to try something a little different? 
Whatever your reasons for ditching the traditional corporate Christmas party, there are plenty of great alternatives out there.
In case you're short of ideas, we've compiled a list of our favourite alternatives to the office Christmas party to help you and your colleagues enjoy the festive season in style.
Volunteering or fundraising for charity
Activities could include helping out with the animals at a city farm, a beach clean up, volunteering at a soup kitchen, making pillows for cancer patients or taking part in a sponsored walk, run or cycle.
Alex Palmer, founder of Kina Events, says:
"A volunteering or fundraising Christmas event is really team building with social purpose.

"Your activities could be linked to your organisation's existing charitable partners or focus and could be linked to your business' sector in some way.

"There are third party companies that can curate special experiences (for an extra charge) if you need a particular organisational or charity slant."
Adventurous activities
This one's not for the faint-hearted – especially if you're holding your event outdoors in December. 
We recommend having a robust back-up plan in place in case the weather is too bad to be outside.
Activities could include a scavenger hunt, archery, axe throwing, caving, quad biking, clay pigeon shooting, raft building or paintball.
Alex says:
Before organising a physical event like this it's important to consider the dynamics of the team taking part and if they're likely to feel comfortable with the activities you have planned. 

"As with all activities, you'll need to run plans by your health and safety team before you book anything and a waiver form is also a must."
Indoor experiences with novelty value
People love trying new things and there are loads of quirky activities and skills you can try that – hopefully – no one in your team will have done before!
Examples include lego workshops, pottery classes, designing and building your own F1 car, or Crystal Maze experiences.
Alex says:
"Novelty value is key here! People like to tell their family and friends that they've tried something that no one else has – it's all about bragging rights!"
Festive-themed fun
You might have decided to do something different for your festive celebrations this year, but still want a Christmas theme for your alternative event.
You could try a festive-wreath making workshop, a Christmas 'Bake Off' event, or the whole team could go to see a pantomime or a Christmas carol sing-a-long at the Royal Albert Hall. 
Alex says:
Typically a workshop-style event will last between two and three hours, and I'd recommend organising informal drinks and/or a meal afterwards if your budget allows." 
Don't forget the practicalities
Once you've chosen your alternative Christmas activity, make sure you check contracts carefully, consider legal and HR considerations and make a detailed communications plan.
Things to think about might include:
If you're working with a company who will provide the activity for you, they may arrange everything – but some will need you to provide a venue. As always, check contracts carefully so you know who is doing or supplying what (or not)

When researching a venue

, consider supplier access times for setting and packing up, noise levels, privacy levels. Check with your supplier for the exact specification required

If you're going off the beaten track for your Christmas celebration, communication is particularly important – some people don't like surprises! Provide your guests with an overview of what activities will involve, timings, the dress code, and money needed on the day.
Alex says:
Your team may also appreciate it if your Christmas event can take place during their normal working hours.

"This way it won't eat into their personal time at a busy time of year – and any parents won't have to arrange extra childcare."
If you have any questions or would like some help planning your business events, please contact the Kina Events team on 0207 205 7901 or send us an email.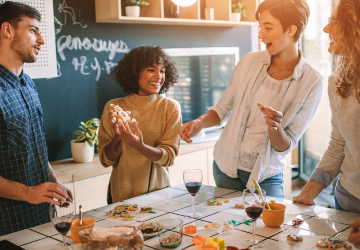 We've compiled our top 12 list of influential Twitter accounts that provide high-quality thought leadership in the events industry.
As Covid-19 restrictions ease and we start to plan ahead, now's the perfect time to look for the best speaker for your online, hybrid or in-person event.
STAY UPDATED
Be the first to know about our latest news and events.
{"popup_ID":360,"when_popup_appear":"scroll","delay":"","x_second":"","x_scroll":"30","disappear":"","exptime":"10","hideclsbtn":"","clsonesc":"1"}