How to find the best guest speakers for your events
As Covid-19 restrictions ease and we start to plan ahead, now's the perfect time to look for the best speaker for your online, hybrid or in-person event.
Your choice of guest speaker can make or break your event's success – and your reputation. So make sure you dedicate plenty of time and resources to finding the right person.
Here's our advice to help ensure you do just that.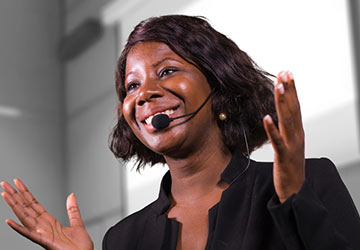 Set your goals
Before you do anything else, define the aims of your event and what you want the specific session with the speaker to achieve.
Once you've got this worked out you can identify guest speakers who can help you meet these goals.
Next, make sure you know your budget. If you know how much you can afford, this will help you create a shortlist.
Alex Palmer, Kina Events founder, says: "It's really important to research your audience's needs and expectations. What will attract them to your event? Perhaps they're interested in someone entertaining, or looking for more serious insights with facts and statistics. 
"Whatever tone you're looking for, you'll want someone knowledgeable and a good fit for your audience. Bear in mind that a good guest speaker will be more than willing to tailor their presentation to your event."
A well-chosen speaker will also:
Connect with your audience
Inspire, motivate and keep them engaged

 

Provide fresh ideas and offer an element of diversity, for example a different angle on an issue or experience
Have excellent pacing and storytelling skills

 

Reinforce the event's key themes.
Finding your perfect speaker
Now you've worked out what you want from your guest speaker, how do you go about finding the right one?
Start by thinking about similar events you've attended. Was there a speaker who impressed you who might be right for your event? You should also ask people you know for recommendations.
Look at lists of past or upcoming speakers at similar events and see if you can watch them in action online or in person. 
Once you've found some potential candidates, visit their websites and find them on Slideshare to see what their presentations look like. Look for well-designed, tailored, carefully thought-out slides.
Check out their social media profiles – look for a healthy following, meaningful content and positive engagement. Have they promoted events they have appeared at in the past? 
Having a chat with potential speakers via video call is a great idea as it allows you to ask questions, see how they come across and also get a feel for how you might work with them," Alex says.
"If they ask specific questions about your event and its audience it's a good sign they'll make an effort to be relevant and deliver what you're looking for."       
Specific advice for virtual
There are, of course, some extra steps you should take if you're holding a virtual or hybrid event. 
Once again, look at your speaker's credentials – have they presented at online events before? Do they have an interactive style, helping to break up the session and engage the audience? 
Ensure they did a good job and came across as energetic, authentic and passionate. 
Rehearsals are particularly important for online events and it's also important to check your speaker:
Is comfortable using the required technology
Has a good quality camera and microphone (or is happy for your production company to supply them)
Is using a reliable internet connection
Will have a distraction-free room with a suitable background available on the day.
We hope this insider advice is useful in your hunt for the best event speakers!
---
Need some help?
If finding the best speaker for your event will take up time you just don't have, then the Kina Events team can do the hard work for you, liaising with you throughout the process.
Share
Advice for individuals and employers on how events professionals can look after their mental health and wellbeing during Covid-19
The Kina Events team shares its top tips for handling challenging work conversations during the coronavirus pandemic.
STAY UPDATED
Be the first to know about our latest news and events.
{"popup_ID":360,"when_popup_appear":"scroll","delay":"","x_second":"","x_scroll":"30","disappear":"","exptime":"10","hideclsbtn":"","clsonesc":"1"}