How to get the most of out working with live music acts
At Kina Events we do a fair amount of networking – not only because it is a fantastic method of increasing our client base, but also because it allows us to meet some really wonderful professionals along the way. Giving us the opportunity to gain a unique perspective on other fields that can help us do our job much better.
That's why we were rather excited to meet Elliot Porter – a talented musician and all-round gentleman who was able to give us a peek into his world and also offer some insight on how event professionals can work closer with musicians.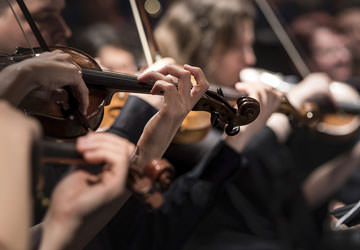 Self-taught, but from a musical family; Elliot was surrounded by instruments from a young age and early on gained a passion for music. A talented songwriter, singer, pianist and guitarist, he has been in the industry for eight years and has worked across the UK and Europe for illustrious brands such as Cadbury, Hilton Hotels, Pizza Express and Harvey Nichols.
He also helps source bands and singers for event planners and private parties, meaning he is perfectly placed to offer his perspective on the best way to work with a musician. Here are his 5 top pieces of advice when it comes to working with musicians:
Budget
This goes at the top of the list because it really is the most important. Musicians are fantastic and a welcome addition to a corporate event, but they can easily add to your budget. He would recommend hiring a local band, as most musicians travelling a large distance will expect to be reimbursed for travel, so you should always consider numbers. Simply put, the more musicians you have the more expensive, so it may be that your event works best with a solo performer.
Repertoire
Different singers and bands will have varying set lists and whilst they normally will allow for some additional songs – they won't allow for an entirely new repertoire. So find out early on what your artist is willing and able to perform, and see if they are the right fit for you.
Theme
The theme of an event is tremendously important and so it is vital you let your musician know early on. This will help him or her plan their style and set list accordingly and make sure they seamlessly blend into the festivities.
Venue
One of the most important points on this checklist is finding out if the venue has a curfew – it may well be that you can't have music after a certain time (and this may vary according to the day of the week) so make sure to account for this in your plan. Not only that, but it is also important to find out what facilities the venue has – does it already have a piano and PA system? If not, the musician may well be able to accommodate by bringing in his or her own equipment, but again something to consider.
Location, location, location
The size of the venue is important for pretty obvious reasons. You probably don't want a 12-piece string quartet playing in a small, intimate room, but similarly the location is just as crucial. If the party is outdoors, can you get power out to the musicians?
If you would like to chat with Elliot about any of his services please visit:
http://www.elliotporter.co.uk/
http://www.elliotporterpiano.co.uk/
or connect with him on social media:
https://www.facebook.com/elliotportermusic/
https://www.facebook.com/pianopopup/
https://twitter.com/porterell?lang=en
If you would like to discuss any of this in more detail, please contact the Kina Events team on 020 7205 7901 or send us an email.
Share
Many a joke has been made about the dietary requirements of individuals in this day and age (we all know it can be a nightmare sometimes…!), but the truth is never before have we been quite so empowered to control our diets. This is, in our opinion, extremely positive.
I have long been fascinated by customer service in, I admit, a slightly geeky way. In my opinion, terrible customer service is widespread in the UK – we deserve better! – it gets me really hot under the collar.
STAY UPDATED
Be the first to know about our latest news and events.
{"popup_ID":360,"when_popup_appear":"scroll","delay":"","x_second":"","x_scroll":"30","disappear":"","exptime":"10","hideclsbtn":"","clsonesc":"1"}