If you've ever had a nightmare where no one can see or hear you, no matter how hard you try, you've experienced the intense frustration that's all too common for disabled people attending business events.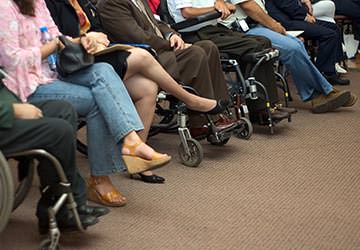 When you're planning events, it's all too easy to forget about disabled access until an issue is staring you straight in the face, particularly if you're new to the career. But making your events accessible to a wider range of people with a variety of different disabilities and needs won't just make them more enjoyable; it will also give you the opportunity to make a direct contribution to improving the everyday experiences of disabled people. It might not always be straightforward, but going the extra mile can really pay dividends.
Engagement is everything
The first step to finding out the potential access needs of your disabled attendees is a very simple one: just ask. One very effective way to do this is via your registration forms or RSVPs: just include an option for people to declare any access needs and explain any factors that could affect them in the context of your event. If you need further details, you can always follow up with them directly.
Anticipating access needs
Of course, not everyone feels comfortable with disclosing either their disabilities or their access requirements. Even if that's the case, you can still anticipate your attendees' potential needs and design your events for maximum accessibility at all times. There are three main areas to focus on: mobility, hearing and vision.
Mobility: move your mindset
Think about whether your venue is accessible to someone using a wheelchair or mobility scooter. It should have a floor plan that allows for this, as well as ramps or wheelchair access to all areas, including the entrance to the building also itself. As well as checking vital points like automatic doors, lifts and disabled parking, it's also well worth making sure that the venue has no sneaky steps into and out of toilets, onto dance floors and between rooms.
Hearing: listen and respond

For attendees who use a hearing aid, you'll need an induction or 'T' loop. If your venue doesn't already have these, you can easily hire them. You'll also need to think about the following points:
Layout, logistics & lighting
Make sure your stage faces one direction so that people can be lip-read from anywhere in the audience
Provide chairs near the front for people who need to be able to lip read easily from the audience
Make sure that lighting is bright enough to allow lip reading, but not bright enough to cause migraines
In the unlikely event that strobe lighting will be used at the venue, make sure you let people know in advance: strobe lighting can have a significant impact on people who suffer from epilepsy or migraines.
Factor in breaks to allow people to have a rest from lip-reading
Presenters & speakers
Ask presenters/speakers to face the audience as much as possible when speaking, without walking around and turning their back on them
Ask them to repeat questions from the audience, or have an audience-facing question microphone that people have to come up to
Content
Include subtitles/captions on all videos and web content
Only use radio/voiceover media content that doesn't require the ability to hear without lip-reading or signing
Offer the option to request a BSL interpreter in advance
Acoustics
It will be hard for a hearing impaired person to participate if there are big echoes and bad amplification. You can improve this – and reduce background noise at the same time – by:
creating more space between noisy areas
using soft furnishings to reduce excess noise
using venues with lower ceilings.
Elderly guests often struggle with background noise as well.
Vision: look ahead
Make sure any visually impaired guests feel included by having any written materials available in Braille and large print. If you are sharing digital documents, check that they are compatible with adaptive technology, such as screen readers. Lastly, offer access seats near the front for clear vision lines.
Communication is key for successful, accessible events
When it comes to making sure your guests have consistently positive experiences, doing your research in advance really helps. Remember that all of your guests are human, and they deserve your care and attention – especially if you've not been able to make the event quite as accessible as you'd hoped.
Communication is key to achieving this without patronising, labelling or offending guests, and many problems can be minimised if you're open, honest and keen to help. Above all, remember that it's disabled guests who know exactly what they need, so just ask. As long as you can listen, learn and take their advice on board, you'll be well on your way to creating a successful and accessible event.
Share
Many a joke has been made about the dietary requirements of individuals in this day and age (we all know it can be a nightmare sometimes…!), but the truth is never before have we been quite so empowered to control our diets. This is, in our opinion, extremely positive.
I have long been fascinated by customer service in, I admit, a slightly geeky way. In my opinion, terrible customer service is widespread in the UK – we deserve better! – it gets me really hot under the collar.
STAY UPDATED
Be the first to know about our latest news and events.
{"popup_ID":360,"when_popup_appear":"scroll","delay":"","x_second":"","x_scroll":"30","disappear":"","exptime":"10","hideclsbtn":"","clsonesc":"1"}