13.06.23 - Better events Career development Industry news News Trends
The best event industry podcasts
This month we're sharing our favourite event industry podcasts for you to try – they're a brilliant way of keeping up with thought leadership, event technology, trends and best practices.
In case you're not familiar with podcasts, you'll find they're very similar to a talk radio programme, but you can download and listen to them whenever you like.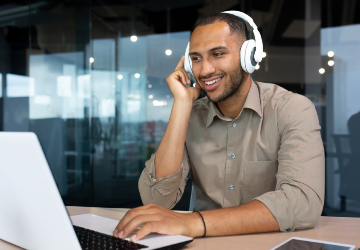 If you struggle to find time to read industry news in print or online, podcasts might work better for you as you can listen to them while you're commuting to the office, or out for a lunchtime walk.
You can usually listen via the podcaster's website, or download a podcast app – or you can listen to lots of them via Spotify, which we've linked to here.
To save you some time searching for relevant podcasts, here's a list of our favourites:
Event Industry News Podcast
Events profs everywhere read Event Industry News magazine – but have you listened to the podcast?
Industry professionals are interviewed about the latest news, views and topics in the events world, including recent episodes on sustainability, diversity, experiential events, and predictions for the industry.
This UK-based podcast also has an extensive back-catalogue, which is a mine of information on hundreds of events-related topics.
If I Could Tell You Just One Thing 
This podcast only launched in March 2023 but we've been gripped by every episode so far.
Industry leaders are invited to write a letter to their younger selves and consider the advice they'd give themselves if they could. 
Presenters Mel Noakes and Max Fellows discuss these letters with the authors, in refreshingly honest and sincere conversations.
It's perfect for both new and seasoned events professionals and is a both informative and entertaining listen.
Diversity Alliance Talks
Gabby Austen-Browne, founder of Diversity Alliance, talks to equality, diversity and inclusion and HR professionals – as well as events, hospitality and marketing professionals about how to ensure events are diverse and inclusive.
We recommend this podcast to event professionals who want to learn how to attract diverse audiences, feature diverse content and create events that are inclusive, accessible spaces for everyone. 
The Events Insight
This inspiring podcast is great for anyone thinking of working in the events industry. 
Each week a thought-leader from across the globe talks about their career, how and why they got into events, what they've learned along the way – and why they're still in the industry!
It's a worthwhile and entertaining listen – and season 11 has just started, with special guest Matt Bradley.
Skift Meetings Podcast
You may already have heard of the US-based Skift website and blog – now it's time to try the podcast!
This is a weekly show featuring in-depth interviews with top event professionals from around the world.
It provides first-hand knowledge, new ideas and insights and latest industry trends. 
Recent topics covered include how translation powers inclusion, brand and community building and event technology.
We hope you find our round-up of the best events podcasts useful – let us know if you enjoy listening to any others!
Meanwhile, if you have any questions or would like some help planning your business events, please contact the Kina Events team on 0207 205 7901 or send us an email.
Share
I have long been fascinated by customer service in, I admit, a slightly geeky way. In my opinion, terrible customer service is widespread in the UK – we deserve better! – it gets me really hot under the collar.
We have a responsibility to make events more sustainable - and most event attendees now expect this from us. Here are four ways you can reduce food waste at your next event.
STAY UPDATED
Be the first to know about our latest news and events.
{"popup_ID":360,"when_popup_appear":"scroll","delay":"","x_second":"","x_scroll":"30","disappear":"","exptime":"10","hideclsbtn":"","clsonesc":"1"}