06.01.22 - Better events Catering Food News Sustainability Trends
Four ways to reduce food waste at events
Anyone who's ever organised an event knows that having the right amount of appealing, tasty food on offer is very important to delegates.
This includes having enough food: running out is every event planner's worst nightmare.
Because of this, caterers and event organisers usually order more food than is actually needed, typically by around 10%.
This over-ordering contributes to, on average, 15% to 20% of food being wasted at every event.
Not only is this a total waste of money, it's also wastes the energy, fuel and water to produce food that is ultimately just thrown in the bin.
And as we're all aware, when food waste ends up in landfill, it produces additional greenhouse gases, further contributing to the environmental crisis.
So what can we do to ensure event attendees' high expectations for food provision and sustainability credentials are met and reduce the amount of waste produced?
Here are four ways you can reduce food waste at your next event.
Set goals and stick to them
We have a responsibility to make events more sustainable – and most event attendees now expect this from us.
So it's important to make food waste reduction part of your event plan from the very beginning.
When you're talking to potential suppliers, make it a requirement for them to be proactive on food waste reduction.
For example, you can insist that suppliers work with local organisations to repurpose any leftover food (for example Fareshare and Olio).
You can also agree that any food waste not safe for consumption is composted rather than sent to landfill.
Look at contracts carefully: they often include a clause about the percentage of extra food that will be provided in case of unexpected guests. Do you really need this, or will it just end up in the bin?
Ask venues and caterers to separate and measure food waste and ask for a report that you can use to help you make improvements at your next event.
You can also serve plated meals with conservative portion sizes – and ask caterers for recipes that use an entire product and so produce little or no waste in preparation. 
If possible, choose reusable plates. If you have to use single use plates and cutlery, source those that can be recycled or composted. 
Talk to your attendees
Communicate with your attendees about food waste before, during and after your event. 
Let them know what you're doing and why, and ask for their support – awareness of the climate crisis is now such that the vast majority of people will be keen to get involved.
They can help by letting you know if they can't make it or ensuring they tell you if they have any dietary requirements.
If you're going to have special bins for food waste, let guests know in advance and what they should do with any leftover food.
Help attendees make decisions about the food they choose and what they do with any waste when they're at the event with clear signage wherever food is served.
After the event, let them know the results of their efforts – how much food was thrown away compared to previous events?
Increase communication with caterers
Provide your caterers with information about the number of people you're expecting, and do this earlier and more frequently than you may have done in the past.
This will help them to plan the amount of food required more accurately.
It will also help caterers if you can let them know exactly what your guests want to eat at the event.
Track and review attendance and consumption data from past events to help identify the types and quantities of food you should order. 
Ask the caterers to let you know after the event what types of food weren't eaten, so you'll have more useful information for next time.
A few extra questions on a booking form can also help you make informed decisions about what your attendees will eat, or you could invest in customer profiling and research.
Involve staff
It's important to ensure that all staff involved with your event are aware of your food waste reduction goals.
If they're well-informed and engaged, they're more likely to act in ways that help reduce food waste and will 
They'll also be able to talk positively to people at the event about the changes you've made and what you're trying to achieve.
We hope these suggestions help you reduce food waste at your events in 2022 and beyond.
If you'd like more advice or support with your business events, please contact the Kina Events team on 020 7205 7901 or send us an email.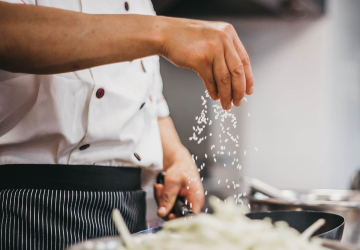 Let's use the Covid-19 pandemic to kickstart a transformation and help the events industry set the standard on sustainability.
Around 1.5 million people in the UK are vegan and many more are vegetarian, pescatarian or actively reducing the amount of animal products they consume. So should event catering be 100% plant-based?
STAY UPDATED
Be the first to know about our latest news and events.
{"popup_ID":360,"when_popup_appear":"scroll","delay":"","x_second":"","x_scroll":"30","disappear":"","exptime":"10","hideclsbtn":"","clsonesc":"1"}