Covid-19 and sustainable events: a catalyst for action
2020 was the year everyone thought sustainability was going to become the next big thing in events.
Then Covid-19 spread across the world, events were cancelled left, right and centre and the industry was in complete crisis.
But despite current challenges, we mustn't ignore this opportunity to reduce the negative effect events can have on the environment.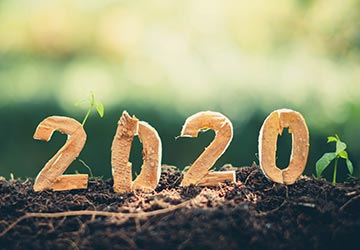 Time for change
Coronavirus has caused immeasurable suffering and hardship across the world – and it's also put environmental issues firmly in the spotlight.
During lockdown lots of us noticed there were fewer cars on the road and appreciated the corresponding improvement in air quality. 
We also found comfort in the natural world around us and became more mindful of our health and wellbeing. 
Many people have said they don't want to go back to exactly how things were – and looking after the planet is likely to be of even higher importance for most.
Prioritise the planet
At the beginning of 2020 a survey showed a respectable 69% of event organisers planned to focus on sustainability this year.
It's vital, as the industry begins to reopen, we don't allow this goal to drop down the priority list.
It would be very easy for old habits to creep back in, especially with additional financial pressures and a myriad of new health and safety requirements.
Quality not quantity
Just because we've always flown to the other side of the world for that annual event doesn't mean we should.
And don't forget the food waste, single use plastics and the amount of 'stuff' that gets sent straight to landfill.
Already the online and hybrid events that have become the norm during lockdown have provided a fantastic opportunity to reduce pollutants and waste.
We need to ask ourselves what purpose each event – and each element of that event – serves, and focus on quality over quantity. 
Events should lead the way
Let's use the Covid-19 pandemic to kickstart a transformation and help the events industry set the standard on sustainability.
If you're feeling inspired and want to make a difference, check out our blog post for helpful advice on how to make your next event more sustainable.
If you have any questions, need further advice or would like some help planning your business events, please contact the Kina Events team on 020 7205 7901 or send us an email.
Share
As Covid-19 restrictions ease and we start to plan ahead, now's the perfect time to look for the best speaker for your online, hybrid or in-person event.
Advice for individuals and employers on how events professionals can look after their mental health and wellbeing during Covid-19
STAY UPDATED
Be the first to know about our latest news and events.
{"popup_ID":360,"when_popup_appear":"scroll","delay":"","x_second":"","x_scroll":"30","disappear":"","exptime":"10","hideclsbtn":"","clsonesc":"1"}