24.08.23 - Better events News Technology Trends
Could your events benefit from an event technologist?
The events industry is constantly evolving, and one of the most significant changes in recent years has been the increase in the use of technology.
From virtual reality to artificial intelligence, there are now a wide range of technologies that can be used to create, manage and deliver events.
As a result, event planners need to be more tech-savvy than ever before. 
But even if you have a good understanding of event technology, it can be helpful to have an event technologist on your team.
What's an event technologist?
An event technologist is a specialist in the use of technology to create, manage and deliver events.
They can help you with everything from choosing the right technology for your event to integrating it seamlessly into your event planning process.
Alex Palmer, founder of Kina Events, says:
As event technology has grown more complex for many events, the need for someone on the team who knows both event planning and the latest event tech inside out has increased hugely.

"An event technologist will help you make the most of the latest technology developments to ensure your events are engaging for attendees and hit your targets.

"If you don't already have someone doing this job in-house, an alternative is to work with a specialist team via an event management company."
The benefits of working with an event technologist
Here are some of the ways an event technologist can benefit your events:
Help you choose the right technology.

There are a lot of different event technologies on the market, and it can be difficult to know which ones are right for your event. An event technologist can help you assess your needs and recommend the best technologies for the job.

Smooth implementation. Whether you're creating an efficient online check-in system, an immersive virtual reality experience or a user-friendly event app, an event technologist will ensure these technologies perform well for you and your event.
Collect and analyse event data.

They'll use data to gain insights into your event attendees' preferences, engagement patterns and analyse the overall success of your events. This will help you improve future events and create more personalised experiences.

Ensure data security.

An event technologist will ensure personal information is protected and all your technology complies with data protection regulations.

Get the most from digital marketing

. They'll put digital marketing strategies in place to help you increase awareness, attendance and engagement.

Create immersive event experiences

. Whether you're holding a hybrid or fully virtual event, an event technologist will help you create a worthwhile and engaging experience for all your attendees.
Alex says:
An event technologist's insights are invaluable, particularly for larger, more complex events. 

"Involving them early on in event planning can help identify the right technology, seamless integration, supplier recommendations – and prevent costly mistakes."
If you have any questions or would like some help planning your business events, please contact the Kina Events team on 0207 205 7901 or send us an email.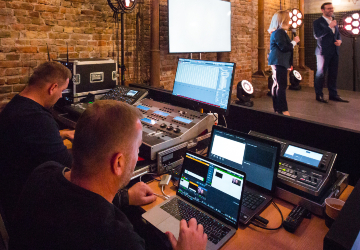 It can be challenging to engage virtual and hybrid event audiences throughout an event, so it's vital organisers do everything possible to help them feel involved. Here are Kina Events' top 10 tips for creating a compelling and engaging event.
Running an event is time-consuming and stressful. Thankfully, working with an event management company can solve these problems for you - and lots more. Read about just some of the many benefits of working with an event management company
STAY UPDATED
Be the first to know about our latest news and events.
{"popup_ID":360,"when_popup_appear":"scroll","delay":"","x_second":"","x_scroll":"30","disappear":"","exptime":"10","hideclsbtn":"","clsonesc":"1"}