16.12.22 - Better events Entertainment News Trends
How to book the best entertainment for your next event
Entertainment is a crucial but often overlooked element of events – and we always advise our clients to plan and book it as early as they can.
We caught up with Adam Sternberg, director of Sternberg Clarke Entertainment, one of the UK's leading entertainment agencies, who shared his expert advice on choosing and booking acts and entertainment.
What does Sternberg Clarke do and how did the company start?
We're an entertainment agency – we book acts from magicians and musicians to circus performers, dancers and cabaret. 
We started many moons ago in 1995 – my colleague Duncan Clarke and I have known each other since school. 
Initially we wanted to be the next Andrew Lloyd Webber so we started off writing musicals, which weren't very good at all.
As a mechanism for making some money while we were doing that I got Duncan a job working as a pianist in various hotels in London, and that's really how it started!
As often happens in life, the things that you don't plan turn out to be the plan.
What do you offer your clients?
We offer knowledge and expertise in the area of entertainment.
If clients want advice on acts or want to know if a particular act will work or what will be most effective for their particular event, then we know the answers to their questions.
Our mission is to be able to suggest things to clients that they don't know, that they haven't heard of, but still fits the brief.
Having said that, clients sometimes want something that's pretty standard, like a magician or a string quartet, for example – so it's a case of knowing which of those is best for the client.
Because, of course, entertainment isn't purely about the ability of the magician or the musician, it's also about their personality, and that personality might suit one client better than another, for example. So knowing that is important.
Why is entertainment such an important part of events?
Entertainment is about making memories.
It can sometimes be seen as a bit of a luxury, but I think Covid has changed things as people now realise the importance of the entertainment experience, the community and the memories. 
It's made people re-evaluate what's important in life and it is things that bring people together – perhaps more than people imagined.
I think people have also realised that the audience plays a very important part in entertainment. 
Audiences have an energy and it's about giving and distributing that energy. 
It's a communion between the audience and the performer – and when it works, it's magical. 
This experience is of value to people.
What are the common mistakes/pitfalls to look out for?
I find that too often people choose the safe option when it comes to entertainment.
They're worried about going for something new and original and it not working.
I say be braver, be bold!
Another mistake that people sometimes make is thinking that a form of entertainment that worked at one event will work at every event and book the same thing over and over again.
All events are different, venues are different, audiences are different, so you really have to take into consideration that each event is an individual thing. 
It's also important not to base your entertainment choice on the whim of an individual, notably the CEO or managing director. 
You should have a holistic view, an understanding of the whole audience. 
Too often too much emphasis is put on the thoughts of the person in charge as to what the entertainment should be. 
The cost of everything is going up, and events are no different. What effect has this had so far in your experience and what are your predictions for the next 12 months?
So far there's been no effect whatsoever.
It feels different to before, not like recessions of the past – for example in 2008 everything went overnight and that's not happened this time. 
But I have no idea what will happen next year.
What's the best entertainment you've ever seen at an event and why?
When we first started out we booked an act called 'A man in a bath' and it made our name, really. 
Fundamentally it was a male strip act – he didn't go completely naked, but pretty well near. 
It's been much reproduced since, but at the time it was the first time anyone had seen it. 
It was a circus acrobalance act with a Victorian bath and you couldn't see the water in the bath. 
Then when he plunged into the water, it sprayed everywhere and looked amazing in the light and bit by bit he took off his clothes as he had a bath.
It was beautifully done, and not at all tacky – I'll never forget it.
What's your top tip for event planners looking to provide entertainment at their next business event?
Be bolder, take entertainment seriously and try to find entertainment that's memorable – make it an integral part of your event.
Sternberg Clarke is the recommended supplier of entertainment to more than 100 venues in the UK, including The Ritz, Westminster Abbey and The Natural History Museum.
Clients include Cadbury, Deloitte, Google, and KPMG.
Visit the Sternberg Clarke website to find out more or call 0208 877 1102.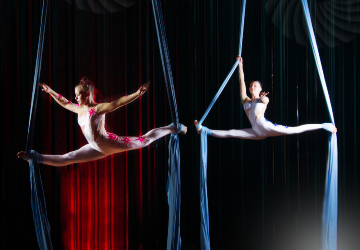 We've compiled a list of our favourite alternatives to the traditional corporate office Christmas party to help you and your colleagues enjoy the festive season in style.
As Covid-19 restrictions ease and we start to plan ahead, now's the perfect time to look for the best speaker for your online, hybrid or in-person event.
STAY UPDATED
Be the first to know about our latest news and events.
{"popup_ID":360,"when_popup_appear":"scroll","delay":"","x_second":"","x_scroll":"30","disappear":"","exptime":"10","hideclsbtn":"","clsonesc":"1"}