12.09.23 - Better events Event strategy News
How to create a successful event strategy
When you're organising a packed events calendar it's easy to lose sight of what it is you're really trying to achieve. So what's the secret of a successful event strategy?
Here's some advice from our event management experts:
Set clear goals
Do you want your events to generate leads, increase brand awareness, or educate your audience?
Other goals might include rewarding employees, driving sales, or building customer relationships.
It's important to take a step back and give yourself plenty of time to review exactly what you need your events to deliver for your business.
Do your research, involve key members of the team and ensure the targets you set are measurable and achievable.
By setting key performance indicators (KPIs) such as attendance numbers, lead generation and attendee satisfaction you can measure what you achieve versus the goals you set.
Alex Palmer, founder of Kina Events, says:
Too often events are repeated each year without much reflection on whether they're the right ones, what they achieved, or how they fit in with the wider business strategy.

"Sometimes marketing functions are removed from the wider strategy because they're seen as a 'cost to the business'. I think everyone loses when this happens."
Review your resources
The money you have to spend and the size of your team will determine the size and number of events you can organise.
Alex says:
It's essential to know what you're working with and to be honest about what's achievable – or you're just setting yourself up for failure.

"By considering this early on in the event planning process, you can identify areas where you need more help.

"For example, you might decide to bring in an events management company to provide some extra support."
Define your target audience
Who are you trying to reach with your events? 
Creating a persona of your ideal participants, including details such as their age, interests and personality traits, is a helpful way of working out exactly who you want to attend – and categorise the types of event you should hold.
For example, if you're planning to hold events for networking, entertaining existing clients (client retention activities) or prospecting (attracting new clients), will your target audience want to attend? 
 You can then tailor every element of your event to ensure it resonates with that target audience, and caters for their specific needs and interests.
Plan your events schedule
When will your events take place and where? 
The timing and location of your events can have a huge impact on their success, so ensure you give this careful thought when you're creating a strategy.
It's important to consider other industry events, competitors' schedules, school holidays, the time of year and weather conditions.
Make sure you're also avoiding periods of the year that are tricky for your sector or business (such as year end for Accounts, for example) – plus one-off events like general elections.
Expect the unexpected
A contingency plan for unexpected events – from global pandemics and natural disasters to train strikes – should be an essential part of every event strategy.
Having a detailed plan in place for every eventuality will help your team navigate any unexpected challenges much more quickly and smoothly.
Measure your results
Once your event is over, it's important to assess if you achieved your goals, what went well and what could be done better next time. 
Bear in mind that creating the perfect strategic events programme takes trial and error, so you should expect there to be things you'd like to improve on next time.
An important part of every strategy is making the most of insights gained from each event and using what you've learned to make the next one even better.
Work with an event management company
Creating a successful event strategy can be a time consuming process.
If you don't have the time or resources in-house, you might decide to work with an external event management company.
Alex says:
It can be very beneficial to have a fresh pair of eyes taking a look at your event strategy. 

"At Kina Events we have many years of experience – we know exactly what works and what doesn't.

"If you're looking for some help with your business event strategy, we'd be delighted to help."
If you'd like to talk to us about your business events, please contact the Kina Events team on 0207 205 7901 or send us an email.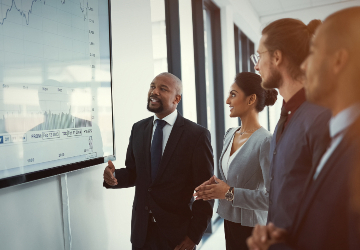 From virtual reality to artificial intelligence, there are now a wide range of technologies that can be used to create, manage and deliver events. Even if you have a good understanding of event technology, it can be helpful to have an event technologist on your team.
Running an event is time-consuming and stressful. Thankfully, working with an event management company can solve these problems for you - and lots more. Read about just some of the many benefits of working with an event management company
STAY UPDATED
Be the first to know about our latest news and events.
{"popup_ID":360,"when_popup_appear":"scroll","delay":"","x_second":"","x_scroll":"30","disappear":"","exptime":"10","hideclsbtn":"","clsonesc":"1"}