How to effectively use Near Field Communication (NFC) in your event
A topic that we touched upon in our technology-focused blog some time ago, but which we felt warranted a slightly closer delve into, was Near Field Communication (NFC). Quite possibly the most important feature of events that you have never heard of!
NFC essentially allows smartphones to communicate with readers and other NFC readers and it is estimated that by 2019 it will be included in 1.2 billion mobile phones. In terms of events, this has already started to be of significant importance, with NFC wristbands proving to be a vital way of making corporate events far easier to manage and much more efficient and offering an overall improved experience.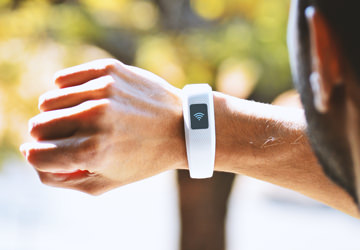 1. Access Control
Having NFC can cut down on one of the most significant hindrances at any event: queuing. Using NFC readers it is possible to digitally track guests as they enter and exit. Utterly eliminating the need for paper tickets or email, which are so often the cause of much paper shuffling and desperate searching for stray pieces of paper. Not only that, but the data captured thanks to NFC can be extremely specific including the guest's demographic e.g. the type of people arriving at a certain time.
2. Cashless Payments
Another traditional challenge in the event space; the ability to take payments is tremendously important for upselling at any exhibition style event. However, it can often take time and not everyone is prepared to take cards. Not only that, but traditional tokens can easily get lost. However, thanks to NFC it is possible to use a wristband as a digital payment system.
More than that, these wristbands can even be used to offer select attendees free drinks; a darn sight more sophisticated than a re-purposed raffle ticket.
3. Social Media
Love it or hate it, social media is undoubtedly an important aspect of planning any event, allowing you to publicise your event and spread some all-important brand awareness. It is a tremendously invaluable marketing asset, with planners able to invite their guests to link their wristbands to any of their social media accounts, meaning that their activities can be shared instantly. This could include automatic check-in on Facebook or the sharing of photos taken at a booth.
4. Analytics
NFC also provides a fantastic way of gathering data with wristbands allowing organisers to track, in a GDPR compliant way, the user journey of a guest. This can prove to be invaluable information in organising any large event. Allowing you to precisely pinpoint the attractions that were of interest, and what demographic was enticed by which aspect, can be a very useful tool and a fantastic way of monitoring, measuring, but most importantly of improving your event.
5. Follow Up
Analytics are not the only way that NFC technology can help improve your next large event. With the wristband so clearly able to monitor when attendees leave, it's possible to immediately send an attendee a feedback form once they have left the event (when, they are hopefully, most convinced to respond). It can also be an important add-on for exhibitors, as an email can immediately be sent out with exhibitor details and offerings.
---
If you have any questions, or need help planning your business events, please contact the Kina Events team on 020 7205 7901 or send us an email.
Share
It may seem rather hard to believe and, in truth, more than a little worrying but 2019 really is just around the corner and, as always, a New Year really does signal the dawn for some new event trends.
This week we are embracing our inner nerd and taking a look at some of the technology innovations that are set to change events over the next few years.
STAY UPDATED
Be the first to know about our latest news and events.
{"popup_ID":360,"when_popup_appear":"scroll","delay":"","x_second":"","x_scroll":"30","disappear":"","exptime":"10","hideclsbtn":"","clsonesc":"1"}