Is it possible to hold business events now?
The simple answer is yes, you can hold business events now.
But – even though most Covid-19 restrictions have been lifted – the considerations for holding most events are still very different compared to before the pandemic.
A crucial aspect is whether people will actually want to attend. 
We're finding that while a lot of people are desperate to get back to normal and attend events in person, others are continuing to avoid mixing with large numbers of people.
Kina Events founder Alex Palmer says:
Interestingly, some people are behaving differently in their personal and professional lives. 

"For example, they might be willing to take the risks associated with going to the theatre or attending a festival in their own time, but not so willing when it comes to attending an in-person event for work. 
"Many people have also become used to the convenience of attending business events online.
"Ensuring your audience is willing and able to attend your event is crucial – and you need to be sure that, in helping them feel comfortable, you can still achieve your original objectives."
In addition, you'll need to consider the extra costs of holding an in-person event, for example you may need to pay for extra cleaning or hire a larger venue than you might have in the past.
It's also possible restrictions will change, so you'll need to check your insurance cover and keep a very close eye on cancellation policies in supplier contracts. 
Consider a hybrid event
Holding a hybrid event can be a good option if you have a split of those who can't wait to meet with people in-person again and those who remain more comfortable attending virtually.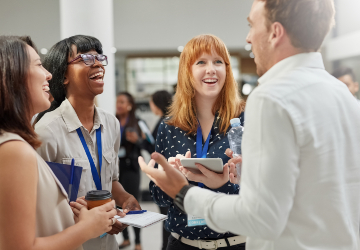 Alex says:
Keep in mind what you want your audience to get out of the event and ensure you can provide this no matter how they attend.

"Live chat, Q&As, polling and allowing virtual attendees to network with those who are at the event in person can really help create connections and engagement."
Communicate the benefits
If you're asking people to attend an in-person business event it's important both you and your audience are extremely clear about the benefits.
Ask yourself what you and your attendees will get out of being there over and above what they'd gain from attending virtually.
Alex says:
"There's still a risk involved with attending live events – even for those who have been vaccinated against Covid-19 – so people need to understand why you're asking them to go and what's in it for them.
"So, if your reason for holding the event in person is for people to reconnect as a team, or to get to know each other if they've never met in person before, then you should communicate this clearly."
Share safety information
Your attendees will want to know what safety measures will be in place before they commit, so ensure you communicate this in advance of asking them to sign up.
For example, will you be requiring face coverings to be worn and will social distancing measures be in place? Will a negative lateral flow test be a requirement for entry? 
Alex says:
If you're doing things like reducing numbers of people in one place by having smaller groups in socially distanced breakout rooms, let your potential attendees know this in advance – it could make all the difference to how they feel about attending in person."
---
If you have any questions, need further advice or would like some help planning a business event, please contact the Kina Events team on 0207 205 7901 or send us an email.
Share
Hybrid events may not have been on your radar a year ago - but, thanks to Covid-19, have they become the future? In the past, hybrid events were often an afterthought and involved a livestream or recording of event proceedings that were broadcasted to virtual attendees. Now, however, we've learned that so much more is possible - and virtual audiences' expectations have risen.
In this post, we provide a round-up of expert advice on organising Christmas parties in 2021 - and outline some important considerations for businesses.
STAY UPDATED
Be the first to know about our latest news and events.
{"popup_ID":360,"when_popup_appear":"scroll","delay":"","x_second":"","x_scroll":"30","disappear":"","exptime":"10","hideclsbtn":"","clsonesc":"1"}