Is the future of events hybrid?
Hybrid events may not have been on your radar a year ago – but, thanks to Covid-19, have they become the future?
For much of 2020, virtual was the only way for events to go ahead. Now we're hopeful that in-person events might be possible in England from the summer of 2021.
But whilst uncertainty surrounds the precise dates when events will restart – and with some audience members inevitably not yet ready to attend events in person (or enjoying having the option to save time and money by attending virtually) – there remains an element of risk when organising physical events.
Hybrid events have changed
So going hybrid could be an attractive option, allowing you to reach more people – and giving you something to fall back on if restrictions change and the in-person element of your event can't go ahead.
But, done well, hybrid events can offer so much more than this.
In the past, hybrid events were often an afterthought and involved a livestream or recording of event proceedings that were broadcasted to virtual attendees. 
Now, however, we've learned that so much more is possible – and virtual audiences' expectations have risen.
Alex Palmer, founder of Kina Events, says: "It's no longer enough to stream an event – that's not what people expect from a hybrid event.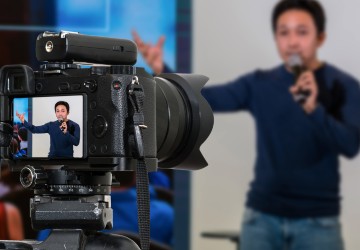 Live and virtual audiences must be given equal priority. They'll experience your event very differently, and that's fine. But both audiences must feel they're getting something just for them and must be front of mind at all times."
Content and networking are key
Your audience will get so much more from the event if they're able to network, chat and participate in real time (with speakers, presenters and all attendees, those online and in the room).
They can now do this via one of the many digital event platforms, whether they're at the physical event or attending virtually.
Quality, appealing content created exclusively for online attendees also adds to their event experience, for example Q&As with event speakers or VIPs.
"As an industry we've learned that people won't engage with an online event for an entire day as they would an in-person one," Alex says.
"But it's entirely possible to provide them with the information, the contacts, the experience – whatever it is they've attended for – in a much shorter time.
"For example, virtual conference attendees can create their own hyper-relevant event by taking part in the three or four sessions that are of most interest to them and networking online, or by watching an edited highlights package and visiting a sponsor's virtual booth."
The events industry continues to learn and develop – and that will undoubtedly continue as the world begins to open up and more hybrid events take place.
It's impossible to predict what will happen in the long-term, but it's clear hybrid events will help us bridge the gap until we know what the 'new normal' will be.
Share
There's no doubt about it, 2020 has been a dire year for the events industry - however, there are glimmers of hope on the horizon. We take a look ahead to 2021.
Glimmers of hope are beginning to appear for the events industry with Boris Johnson's roadmap out of lockdown. It suggests that, by this summer, in-person events may finally be possible in England.
STAY UPDATED
Be the first to know about our latest news and events.
{"popup_ID":360,"when_popup_appear":"scroll","delay":"","x_second":"","x_scroll":"30","disappear":"","exptime":"10","hideclsbtn":"","clsonesc":"1"}