2021: A new beginning for events
There's no doubt about it, 2020 has been a dire year for the events industry – however, there are glimmers of hope on the horizon.
We're all keeping our fingers crossed for the various Covid-19 vaccines in development which, once rolled out, will hopefully make people feel more confident about attending in-person events.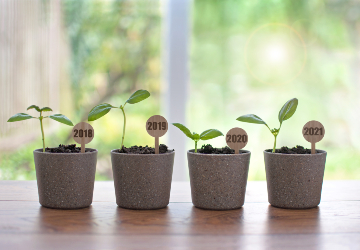 Another ray of light is increased awareness and recognition of the events industry thanks to the way it responded and adapted to the crisis.
The important part the industry played in the creation of the Nightingale hospitals – and in helping the homeless get off the streets and into hotel accommodation – are key examples of what we can achieve.
And it doesn't stop there!
While the vast majority of in-person events couldn't go ahead in their original format, lots were quickly moved online. 
"It was brilliant we had the option to go virtual – not all industries had that lifeline," says Alex Palmer, founder of Kina Events.
Everyone had to learn how to run virtual events very quickly, experimenting along the way. The crisis gave the industry permission to be creative and try new things.

"It might not feel like it now, but in the future I think we'll look back on 2020 and realise it wasn't a total disaster." 
So, what does 2021 look like?
Covid-19 has changed the events industry and that will be the case for a long time to come – perhaps forever.
Virtual events are likely to continue in the short term – and with limited capacity and travel restrictions likely to be around for a while, hybrid could be the solution for the medium term.
Alex says: "During the pandemic, people have become used to not spending a week away from home in order to travel to meetings on the other side of the world – so I think the demand for hybrid events will continue.
"Even after the crisis is over, it's vital that virtual events remain in the mix in order to help us reduce our impact on the environment."
With headcount restrictions likely to be in place for some time to come, it could be that small, low-headcount events in larger venues come back first – perhaps with hybrid options.
"The industry has learned that high quality, relevant, personalised content is very important if we're going to keep audiences engaged online – and an emphasis on health, wellness, diversity and the environment will continue to be high on the agenda next year," Alex says.
We've been challenged and forced out of our comfort zone, and thanks to our collective innovation and creativity, we've learned a huge amount. 

"I'm sure there'll be some best practices that come out of it, with some becoming the new normal – and hopefully providing the events industry with a new beginning in 2021."
---
If you have any questions, need further advice or would like some help planning your business events, please contact the Kina Events team on 020 7205 7901 or send us an email.
Share
You can host online events, give presentations, stream video content or network with new clients during the coronavirus crisis - and no one has to leave home.
Let's use the Covid-19 pandemic to kickstart a transformation and help the events industry set the standard on sustainability.
STAY UPDATED
Be the first to know about our latest news and events.
{"popup_ID":360,"when_popup_appear":"scroll","delay":"","x_second":"","x_scroll":"30","disappear":"","exptime":"10","hideclsbtn":"","clsonesc":"1"}