Is the traditional Office Christmas party dead?
The Christmas party is an important tradition in British society, allowing for employees to celebrate, revel in their work achievements for the year and, generally, let off some well-deserved steam. Whilst most of our corporate clients start planning their Christmas party many months in advance, for those who haven't quite got there yet, panic not!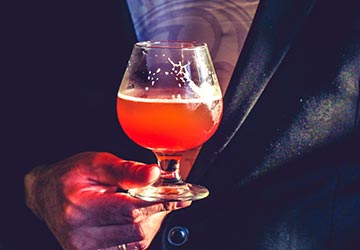 Kina Events have got you covered for all your Christmas party entertainment – instead giving your staff a Christmas to remember for all the right reasons.
Bounce is one of Central London's best kept secrets, a bar with a difference.  Bounce boasts ping pong tables – a fun way for individuals to enjoy a night out, even if they don't fancy indulging in a tipple!   Boasting some utterly reasonable rates with prices starting at £45 per person for festive food and drinks, an evening at Bounce also includes access to a karaoke system, ball collectors, a dedicated bar tender as well as the option to update to a 'Games Guru' booking which includes performances from stellar comedians.
If you are looking for something that offers a little more way in the way of team bonding, then All Star Lanes may be the option for you. With the ability to rent out the entire venue to fit 300 people from only £55 a person it not only allows for some competitive spirit, but also includes a cocktail bar, an open bar including house wine, beer, soft drinks and juice as well as a fantastic retro booth.
Oh, we know the name is misleading, but don't worry – you won't have to run this one past H.R.! Swingers is an indoor crazy golf course where you can swing the night away with up to 600 of your closest workmates. A slightly pricier option at £85 a person, it has some fantastic reviews as well as street vendors, cocktails and some festive entertainment. Bound to get everyone laughing…who doesn't like crazy golf, let's be honest!
Now, we know when you think of a darts game it doesn't necessarily leave the body tingling with excitement and energy, however, Flight Club is a darts experience like no other. Whilst still heavily featuring the classic accessory of beer, it includes an interactive board (you don't even have to do the maths!) that can be amended and altered to include group games as well as themes and so much more. All contained in the very reasonable package of £35 per person.
Now, we appreciate this may not quite suite everyone's tastes, however we reckon Whistle Punks in Vauxhall has to make the list, if for no other reason than it is the most unique option in London. If you have always had a hankering to indulge in some medieval axe throwing, this may well be the option for you. In fact, the winner gets to walk away with a trophy, although at £34.90 a head, aren't we all winners? Available on an exclusive hire option.
Another fantastic group option, the Crystal Maze is a more premium option coming in at £115 a head. Although for this price you are able to get lost in this artfully created maze as well as indulge in a sumptuous canapé reception followed by dinner. Retro heaven and bound to keep your employees entertained!
If you have ever wanted to feel like Henry VIII for the day, then London Shuffle may well be for you.  Having been banned by ol' Henry himself for being too distracting, you can feel like a Tudor (authentic garb optional) whilst indulging in handmade pizza, innovative cocktails as well as every 21st century amenity you could ask for.
For those brave enough to brave the outdoors during winter in South London, Go Ape Battersea could well be the one for you.  A lovely daytime activity, you can enjoy some fresh air and dizzying heights and leave feeling bigger, bolder and braver. Then head to a warm restaurant or pub continue the party.
---
If you'd like some help organising your Christmas party or in finding a party venue, give us a call on 020 7205 7901 or send us an email.
Share
It may seem rather hard to believe and, in truth, more than a little worrying but 2019 really is just around the corner and, as always, a New Year really does signal the dawn for some new event trends.
Team bonding is absolutely crucial to business success, although team-building events themselves still carry a reputation for being uninspiring and, to be frank, not very impactful.
STAY UPDATED
Be the first to know about our latest news and events.
{"popup_ID":360,"when_popup_appear":"scroll","delay":"","x_second":"","x_scroll":"30","disappear":"","exptime":"10","hideclsbtn":"","clsonesc":"1"}