Planning the perfect flowers for your corporate event
Continuing on with our theme of collaboration, this week we spoke to Shilpa Reddy, a former doctor turned florist who has been running her own business for two years. An enormously impressive individual who seamlessly spans two different disciplines.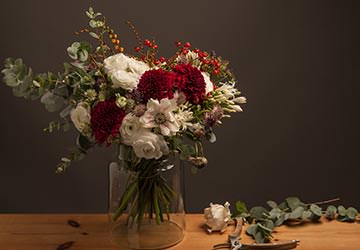 Shilpa has, effortlessly, combined her natural creativity with her analytical background to become a ruddy marvellous florist. So this week we spoke to Shilpa to gain an insight into how to make the most of your foliage at your corporate event.
Preparation
Before commissioning a florist, or indeed going out in search of the perfect floral arrangement, there are a few things to consider. Firstly – you should definitely take the season into account. Sadly, if your flower of choice isn't in season, it's probably best to give it a miss or you'll find your floral bill a tad higher than budgeted. On the subject of money, if finances are tight you may want to consider heading to a local floristry course and learning how to do it yourself – not only a long-term investment, but also rather fun. Or, if you do regular events you may want to invest in some plotted plants – on trend, highly Instagrammable and easy to maintain – they are an affordable, whimsical addition to any event.
Arrangements
If you do decide to go ahead with an arrangement your florist will offer two options: foam or water. Both of these will last a week, but come with their own list of pros and cons. Floral foam is rather easier to maintain – needing only a quick brush with water around every 3 days. Conversely, a good ol' fashioned vase will need regular water cleaning, and to keep that water shimmering it is advisable to purchase some water sterilising liquid or use a drop of household bleach, which is a little more upkeep. However, at the end of the event you can gift your guests with a lovely bouquet whereas foam flowers will need to be picked up by the florist and disposed. Swings and roundabouts…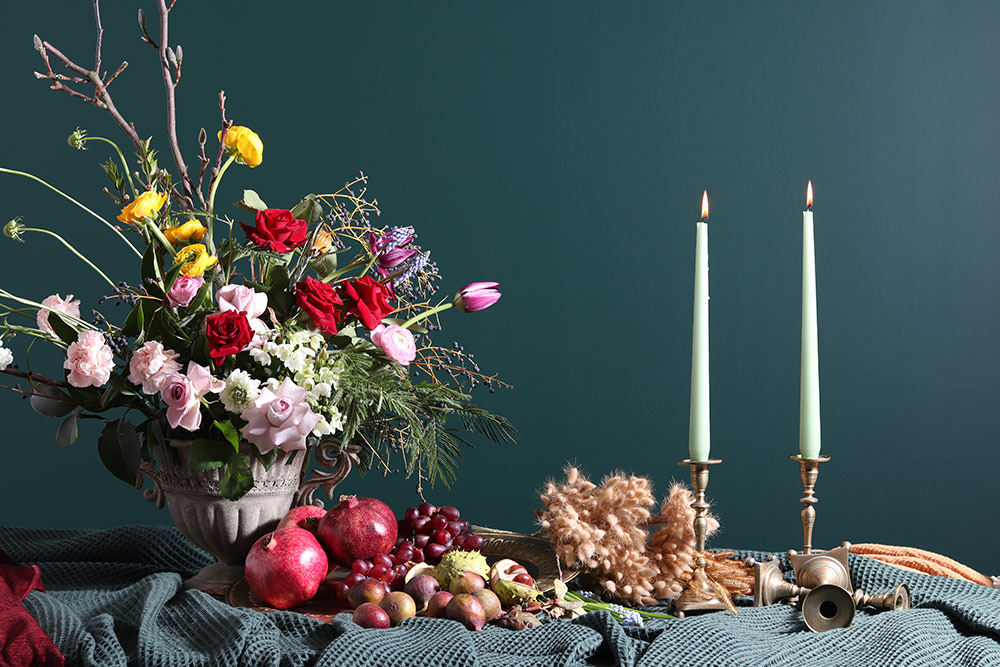 Social Media
Love it or hate it, but social media is an incredibly powerful force that if, used cleverly, can help to boost your brand's profile. Whilst a lovingly created floral arrangement may well be deemed Instagram worthy, increasingly Shilpa has seen a trend for floral installations. Walkways, ceilings or arches that truly grab the eye, and can be featured alongside your guests for a noteworthy shot. Consider investing in one large arrangement, ideally in your brand's colours, and you may well see some more love on social media. If this is something you are particularly interested in, we would also recommend having an event hashtag – helping to boost your profile further.
Marketing collateral
We use flowers because they are pleasing to the eye and help enhance the décor of any room. However, whilst, to the naked eye, fresh flowers look and smell beautiful, under the glare of cameras and videos they don't always look their best. If you are hoping to use photography or videography as marketing collateral and the event is in the evening, make sure to take photos in the day when the flowers can truly shine in natural light. Not only that, but when captured on film, larger blocks of colour look far superior to an arrangement with a rainbow of colours.
Maintenance
To make the most of your flowers make sure they are kept well away from direct sunlight, ripening fruit (if you have a buffet) or any heating. If they absolutely need to be near to any of these three things, then leave it as late as possible before placing the flowers in their position  -this will help ensure a far more long-lasting investment.
---
If you would like to look at some of Shilpa's stunning floral arrangements feel free to take a look at her website. A real fountain of knowledge we would also encourage you to give her a call on 07985 558 056 or drop her an email on info@shilpa-reddy.com
Share
This week at @KinaEvents we were delighted to speak with Ross Edwards of Shooting Stories. Ross is a fantastic videographer we often work with on our events and whom we trust implicitly.
Self-taught, but from a musical family; Elliot was surrounded by instruments from a young age and early on gained a passion for music. A talented songwriter, singer, pianist and guitarist, he has been in the industry for eight years and has worked across the UK and Europe for illustrious brands such as Cadbury, Hilton Hotels, Pizza Express and Harvey Nichols.
STAY UPDATED
Be the first to know about our latest news and events.
{"popup_ID":360,"when_popup_appear":"scroll","delay":"","x_second":"","x_scroll":"30","disappear":"","exptime":"10","hideclsbtn":"","clsonesc":"1"}