Six castles to use as your perfect event space
At Kina Events we are often tasked with finding alternative venues for commercial events. Spaces that are beautiful, interesting and help position a brand in the market.
This has seen us scour the country for properties and spaces that combine our specific clients' requirements, and more and more we have looked to castles as a way of marrying elegance and business. More affordable than you may think, and the perfect opportunity to get out of the city, we believe that 2020 may well be the year that castles really start to emerge as a player in the commercial events sector.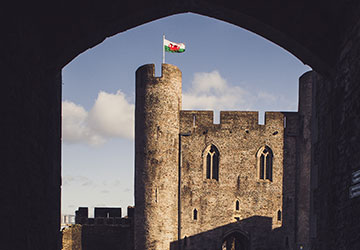 We'd love to hear from you if you are looking for a venue to inspire and impress, but for now, we'd like to share with you our top 6 suggestions for castles that make for a really spectacular event.
As one of North Yorkshire's finest venues and one of the country's few gothic revival castles, Allerton Castle may be familiar as it has been the location for many film and television productions, including: The Secret Garden; Sherlock Holmes – The Sign of Four; and the ITV series Victoria. Situated in the heart of Yorkshire, yet only half a mile from the A1 motorway, Grade 1 listed Allerton Castle offers a diverse range of rooms and indoor spaces suitable for everything from corporate events and team building days, to private dining.
This 15th-century moated castle is situated on 300 acres of staggering woodland with beautiful themed and formal gardens. Steeped in history; it is one of the earliest examples of a brick built building in England. The setting is stunning and it also offers a practical option situated in Sussex that is easily accessible from London Victoria Station/Clapham Junction.
With a number of rooms available exclusively for venue hire, you could have as few as seven delegates and as many as 180. All of these options are not only intelligently designed, but also include on-site accommodation and catering. A range of activities is available to book for your delegates, from castle tours, a falconry experience, a photography workshop and forestry School, so there should be something for everyone to enjoy.
With one of the biggest function spaces holding up to 500 attendees, Slane Castle is an impressive option for those looking to cater to larger numbers of people. It also offers some truly sumptuous options with the Neo-Gothic Ballroom dating back to 1821, when it was completed for the visit of King George IV; whilst the Burton Hall & Phoenix Rooms have won awards for their unique blend of modern and historic.
Situated in the historic town of Farnham and rather helpfully situated both Surrey and Hampshire, the management of this castle pride themselves on offering a flexible approach. This could make it the perfect option for your conference with up to twelve flexible meeting spaces including break out spaces and dedicated dining rooms.
Built on the instruction of William the Conqueror, and continuously occupied for nearly 1,000 years, Rockingham Castle offers an open and incredibly affordable delegate rate ranging from £45-65 per person. This includes breakout rooms, a two course lunch, drinks throughout the day, afternoon tea, flipcharts and a screen to name just a few of the benefits.
The childhood home of Anne Boleyn, Hever Castle has space for up to 200 delegates and is a fantastic option not only for meetings, training and conferences, but also for team building and activity days. In fact, this is one of our favourite locations for a celebration like a summer party or a Christmas party, as it is situated in a breath-taking location with reasonable rates.
---
If you would like any support in finding the perfect castle for your event, please contact the Kina Events team on 020 7205 7901 or send us an email.
Share
It may seem rather hard to believe and, in truth, more than a little worrying but 2019 really is just around the corner and, as always, a New Year really does signal the dawn for some new event trends.
It may seem rather hard to believe and, in truth, more than a little worrying but 2019 really is just around the corner and, as always, a New Year really does signal the dawn for some new event trends.
STAY UPDATED
Be the first to know about our latest news and events.
{"popup_ID":360,"when_popup_appear":"scroll","delay":"","x_second":"","x_scroll":"30","disappear":"","exptime":"10","hideclsbtn":"","clsonesc":"1"}