The best outdoor summer drinks venues in London
Warmer weather is finally on its way which means outdoor and rooftop event spaces are coming into their own for business and summer drinks events in London.
Rooftop venues or those offering wonderful views of the city will provide your guests with a relaxing and memorable experience.
Alex Palmer, founder of Kina Events, says:
Outdoor, rooftop or venues with a view provide a more relaxed setting for business events that work perfectly for meetings, receptions and networking events.

"When researching your perfect venue, I recommend checking if anyone can book or if it's a members-only hire.

"Also, is the area fully exclusive or semi-private – and does it remain private? Some venues will open areas up again at certain times of day."
Another very important factor to consider is the weather. What will happen if it's raining or very cold on the day of your event? 
Ask if there will be an indoor area available to you (or a covered area with heaters), just in case.
I recommend booking ahead as outside spaces are always at a premium in summer months, especially with the backlog of bookings from the pandemic," Alex adds.

"We're advising clients that they should get ahead and book for 2023 now!"
Other important questions to ask when planning an outdoor summer drinks events include:
Is the venue fully accessible and is there a lift?

Does the area you're hiring include access to the great views?

Do you need to use a PA system for speeches or music? If so, does the venue allow this? Can you hire in live music?

Are there any noise restrictions?

What time can the hire go on until and is a late-night extension possible? When do you have to apply for this and how much does it cost?

Can guests smoke/vape and, if so, where?

When does a decision need to be made about the weather in terms of set up and catering?
Here are some of our favourite outdoor summer drinks venues in London to provide you with some ideas and inspiration:
Johnson Roof Terrace, IET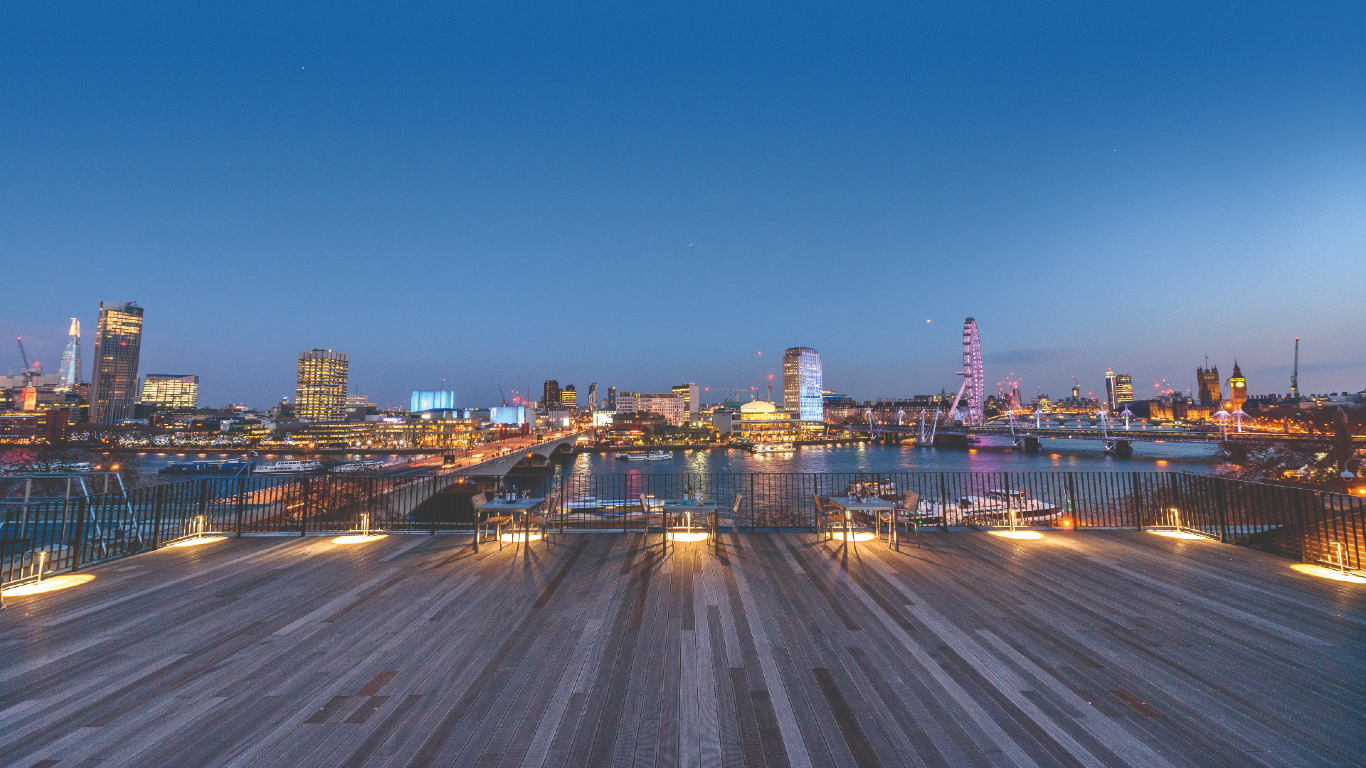 Nearest tube station: Temple/Embankment
The Johnson Roof Terrace is a large rooftop venue for up to 200 guests in a central location.   
It's absolutely ideal for summer drinks receptions and staff barbecues and we love it for its breathtaking panoramic views of the River Thames and London skyline.
You can book the terrace when you have an event in the Riverside Room, so you'll also have a fail-safe back up plan in case of bad weather.
The May Fair Terrace, The May Fair Hotel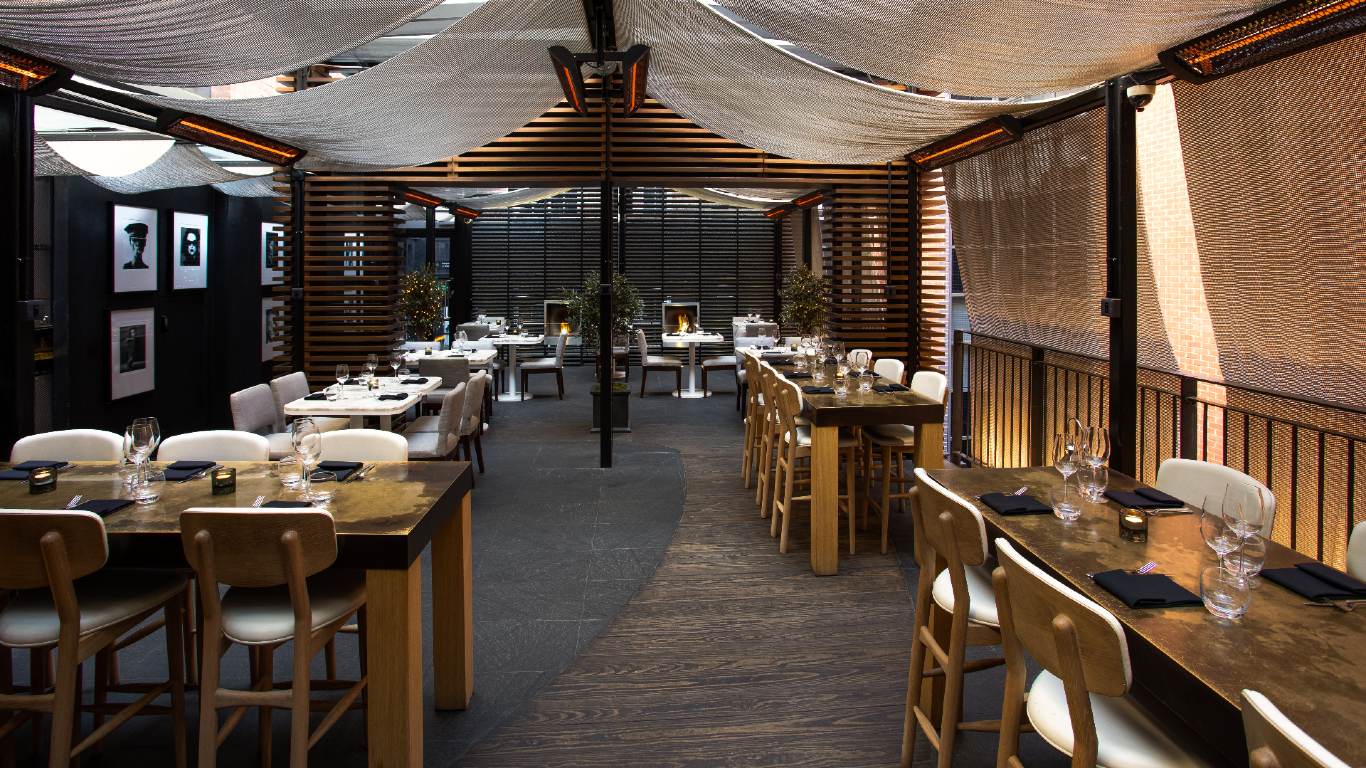 Nearest tube station: Green Park
Set in a 'secret' courtyard in the heart of the hotel, the May Fair Terrace has space for up to 50 guests.
It provides a sophisticated and intimate setting and can be hired exclusively for private events and corporate parties.
We particularly like this venue as the open-air terrace is heated and perfect for both summer evenings and autumn events.
The Rooftop, Trafalgar St James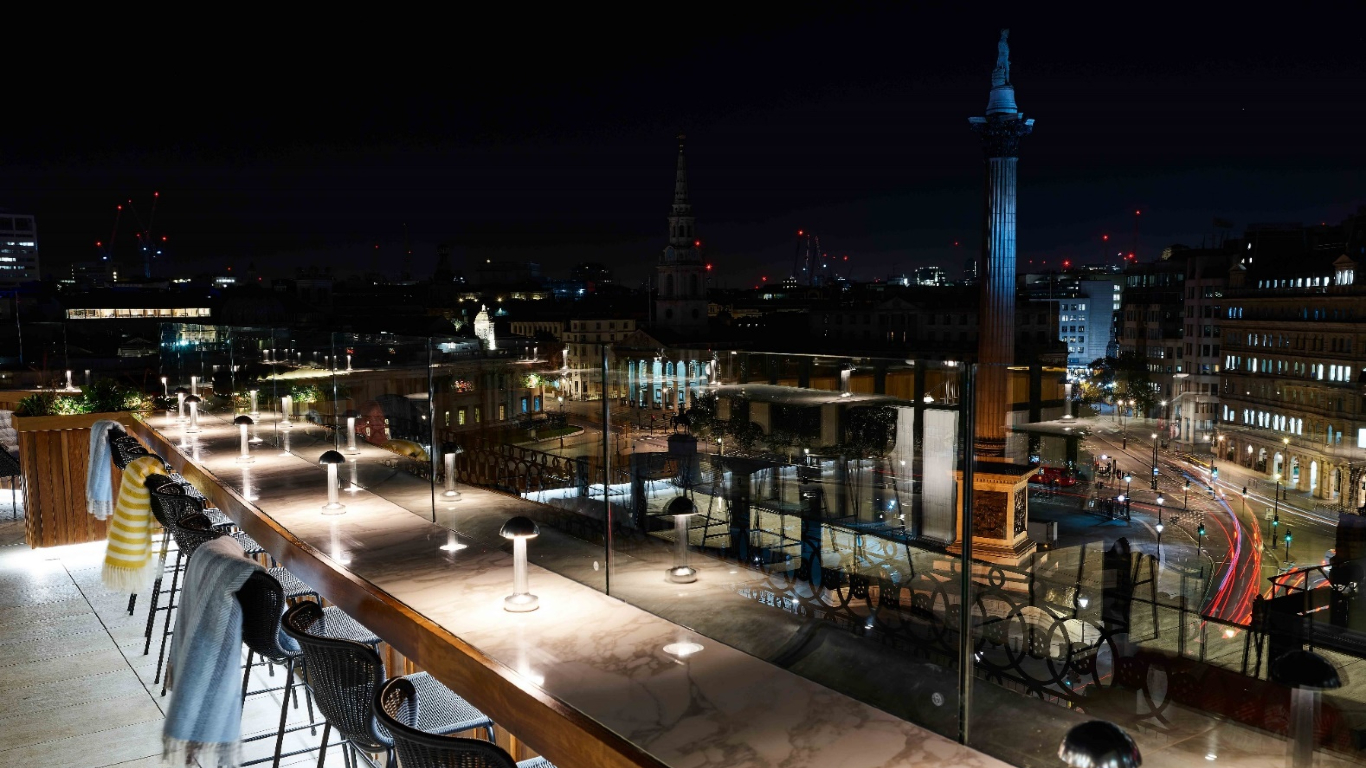 Nearest tube station: Charing Cross
The Rooftop offers spectacular views over Trafalgar Square and is ideal for entertaining international clients.
If any of our clients really want to impress their guests, this is always one of the venues we recommend – it most definitely has the wow factor!
It can accommodate up to 138 people for a standing drinks reception and up to 80 seated.
Your guests can enjoy cocktails and a selection of small plates on the Rooftop.
Or, if you are hosting a lunch or dinner party, you can hire the private glass-enclosed dining space, ROOM. This area also offers great views.
Buffini Chao Deck, The National Theatre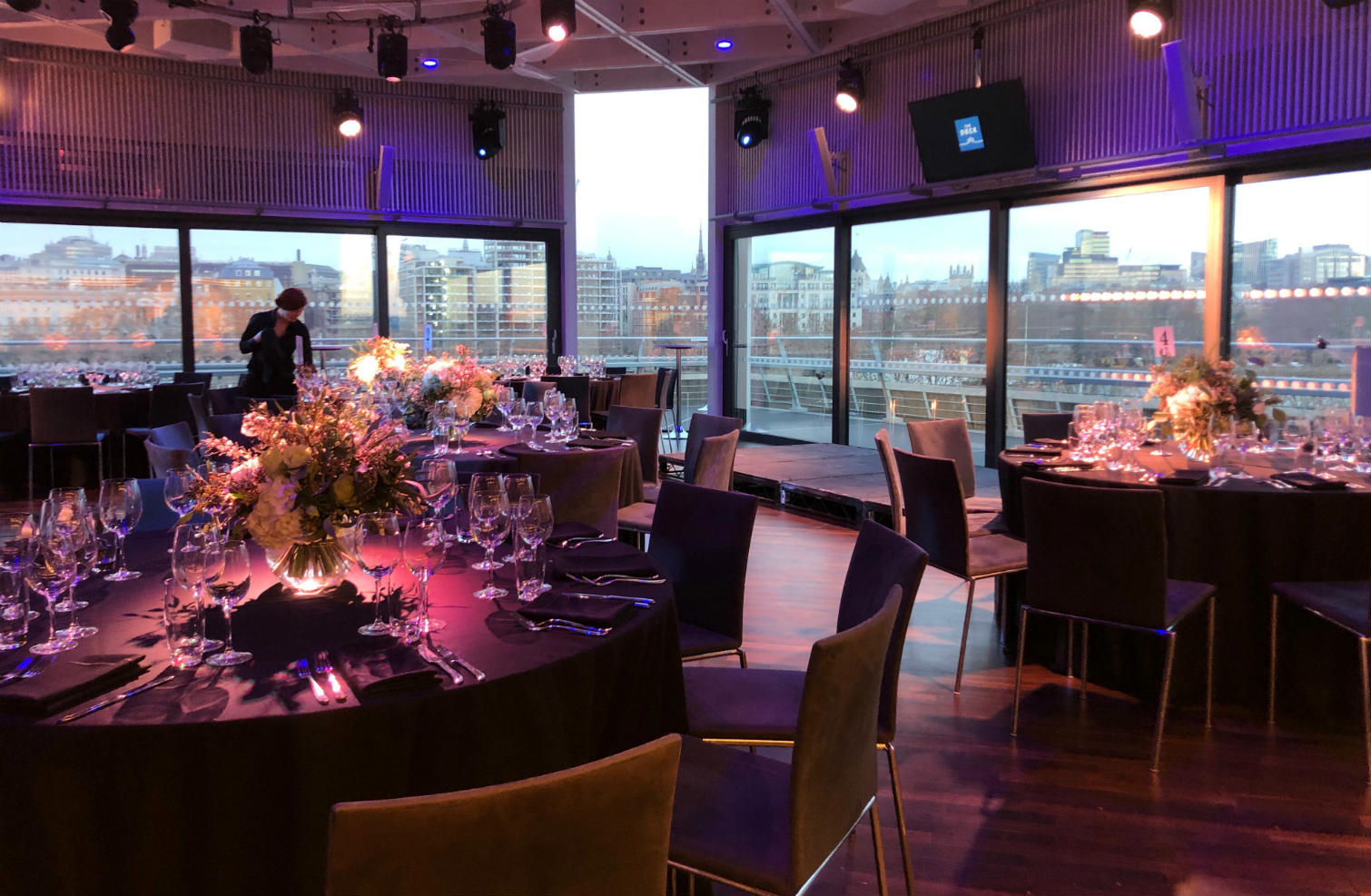 Nearest tube station: Waterloo
This modern venue offers panoramic views across London and provides a spectacular backdrop for any corporate event.
Formerly an often overlooked space, the Kina Events team loves this riverside venue's recent revamp.
The venue can accommodate up to 100 guests for dinner, 200 for a reception and 120 for conferences.
It's surrounded by glazed panels which offer shelter without hiding the view – but they can be retracted on warmer days. 
There are also impressive lighting and AV systems available – both of which were designed and installed by the National Theatre's own sound and lighting teams.
8 at The Londoner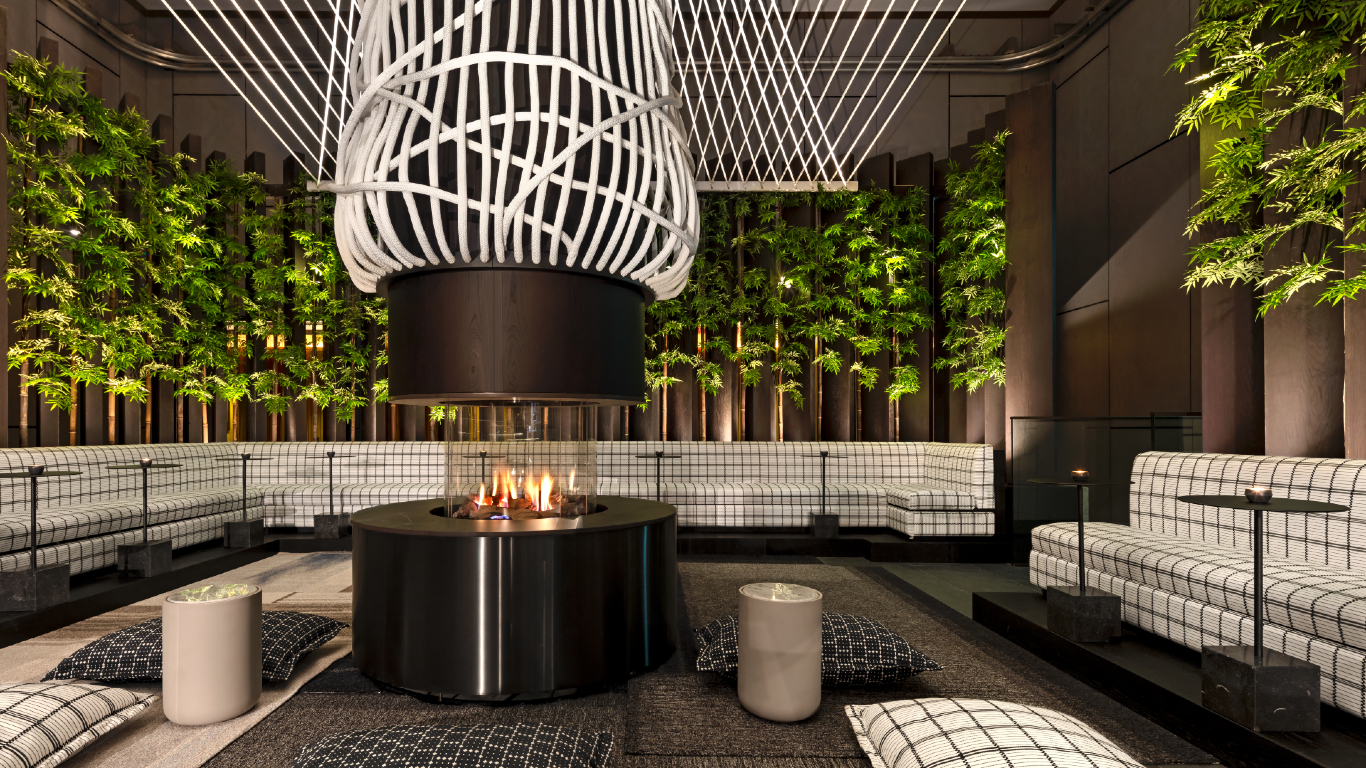 Nearest tube station: Leicester Square
This Japanese rooftop bar and design-led rooftop lounge at recently opened hotel The Londoner is an exciting new addition to London's event scene.
It includes a bar, lounge, terrace and the stylish Shima Garden, which is available for hire for up to 40 guests and includes a striking fireplace centrepiece.
We particularly love the Japanese cuisine and exciting range of cocktails at this lovely venue.
Panoramic Terrace, Pantechnicon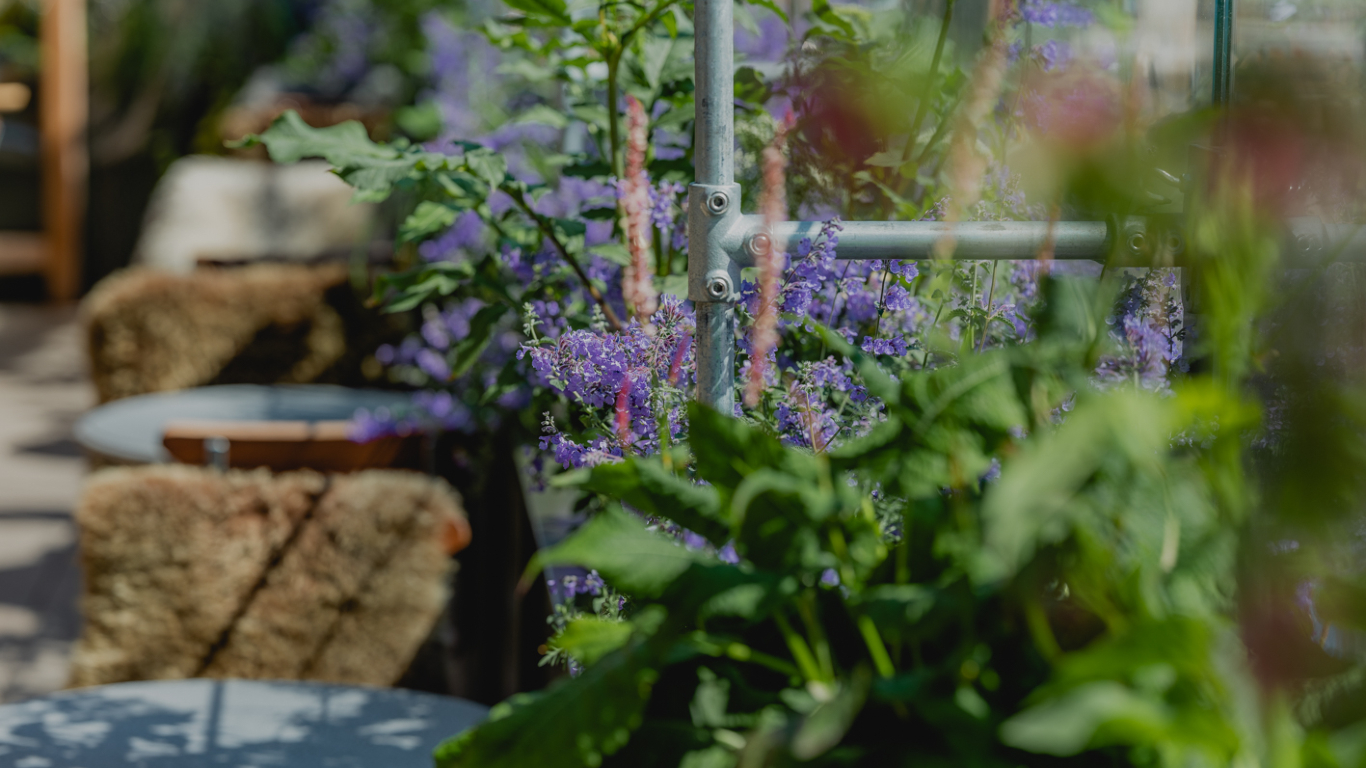 Nearest tube station: Knightsbridge
This impressive venue boasts a mix of eight Nordic and Japanese-inspired spaces across four floors.
One of our favourites here is the Panoramic Terrace which offers amazing views over Belgravia. As it's both covered and heated, it can host events year-round.
The terrace can accommodate up to 40 guests with a mix of seated and standing areas and is perfect for drinks and light bites.
It's worth noting that this space isn't fully private as it sits alongside the venue's (also beautiful) glass-covered Roof Garden.
---
If you have any questions or would like some help planning your business events, please contact the Kina Events team on 0207 205 7901 or send us an email.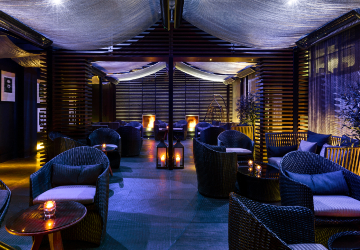 Do you want to get your staff together to reconnect, talk strategy or take part in team-building activities? Read our insider tips on the best luxury country house-style venues for residential off-site meetings.
Your venue choices will be very different post-Covid-19 as legal requirements - and your guests' priorities - will undoubtedly have changed. Here are our top tips for selecting a venue for post-lockdown events.
STAY UPDATED
Be the first to know about our latest news and events.
{"popup_ID":360,"when_popup_appear":"scroll","delay":"","x_second":"","x_scroll":"30","disappear":"","exptime":"10","hideclsbtn":"","clsonesc":"1"}