The small touches which elevate your events from good to great
Your events can be well organised and meet all your aims and objectives – but guests can easily be left feeling underwhelmed by an event that's just a bit 'ordinary'.
So what can you do to ensure your event is memorable and puts a smile on peoples' faces?
We find non-essential but thoughtful touches can help elevate the event experience and ensure guests are pleased they made the effort to attend.
Kina Events founder Alex Palmer says:
I think it's really important to make people feel special and appreciated, particularly at the moment when many events still have to have some Covid-19 measures in place. And let's face it, we all deserve some fun and happiness!

"I know it's hard to justify the extra spend when budgets are tight, but it can be the difference between your event being forgotten as soon as it's over and your guests treasuring fond memories for some time to come."
Kina Events' event specialists can tailor the little touches to your audience for maximum impact, but here are some examples of some of the things you can do to create a truly memorable occasion:
Personalising all your event communications can help make your guests feel special. For example, use their first names in emails or send texts from a high profile event speaker/someone senior within the organisation. If you can, find out what name they prefer – for example, a Philip might prefer to be called Phil
Use a pre-event questionnaire to find out your attendees' favourite drink and present them with it on arrival to create a unique and warm welcome. It's a simple gesture, but your guests will be super impressed
Ensure the event check-in process is quick and pain free, ideally with no queues. Provide an extra friendly welcome by greeting guests by their first name – and know who your VIPs are (and make sure your suppliers know too) so you can give them a first class experience from the moment they arrive
Create an amazing atmosphere that's pleasing for all the senses – for example, get the venue temperature spot on, invest in top-notch lighting, music and sound systems, and ensure seating is comfortable
Provide anyone with special dietary requirements with a tasty and appetising alternative. Off-menu meals are often an afterthought, so your guests will really appreciate the effort you've made. If you're printing menu cards, a personalised menu for guests with special dietary requirements can make them feel less like an afterthought (nobody wants to be an 'or vegetarian alternative'!)
In fact, high quality, responsibly-sourced and innovative menus will be appreciated by everyone – food and drink can really make or break your guests' event experience, so get the details right. Know your menu ingredients in full, know what oils food is cooked in – are they really gluten free? Be mindful of allergies as well as other more general dietary issues
As well as the usual fast and reliable internet and mobile phone coverage, be able to provide guests with a variety of spare extension leads, mobile phone chargers and laptop cables – and ensure there are plenty of plug sockets and charging stations throughout the venue
A small surprise can help you create a highly memorable event. For example, if your guests are staying overnight, they'll really appreciate a personalised note welcoming them and confirming event details – and, if your budget allows, a meaningful gift is a really impressive touch (but don't forget dietary issues if you are giving them chocolates or other food gifts)
If there's any chance they'll be needed, have items like umbrellas, ponchos, blankets, pashminas, fans, suncream and insect repellent available for guests to borrow. A ready supply of plasters is always a good idea for anyone with blisters
Baskets of toiletries in cloakrooms are always appreciated – consider including sewing kits, plasters, hairbrushes, hair clips, deodorant, tissues, painkillers, lip balms and mints
If people are making their own way to an event, a handy list of local taxi numbers and transport details is often really appreciated
If people will be dancing at your event, provide a basket of flip flops they can change into when heels start to feel uncomfortable. For black tie events, anyone who has forgotten their cuff-links or bow tie will be forever grateful if you're able to provide spares: be ready for all the things they have forgotten!
If you're made aware of a significant event (like a birthday) you don't need to make a massive fuss, but, where appropriate, saying 'happy birthday' to a guest or internal colleague can make their day
At the end of your event, don't forget to give guests a warm goodbye and thank them for coming – it's often neglected (particularly when you – and all of your team – are shattered), but it's just as important as that first welcome greeting and will leave them with a positive impression.

---
If you have any questions, need further advice or would like some help planning your business events, please contact the Kina Events team on 0207 205 7901 or send us an email.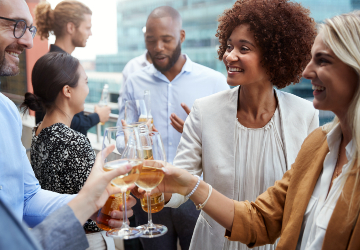 Around 1.5 million people in the UK are vegan and many more are vegetarian, pescatarian or actively reducing the amount of animal products they consume. So should event catering be 100% plant-based?
This year is the 25th anniversary of disability rights legislation in the UK. It's understandable if you'd missed this fact until now. But, despite everything else that's going on, it's important that as 2020 comes to a close we mark the anniversary of the groundbreaking Disability and Discrimination Act.
STAY UPDATED
Be the first to know about our latest news and events.
{"popup_ID":360,"when_popup_appear":"scroll","delay":"","x_second":"","x_scroll":"30","disappear":"","exptime":"10","hideclsbtn":"","clsonesc":"1"}