What events might look like post-coronavirus lockdown
There remain many ifs and buts, but the UK government has said some of the hospitality industry may reopen before the end of the summer.
Whilst there have been calls for more clarity around when and how this might happen, it will ultimately depend on the status of the Covid-19 outbreak as lockdown is lifted.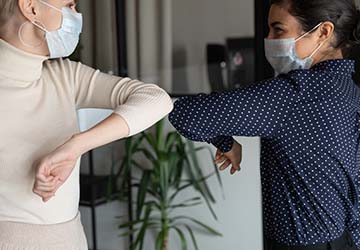 So events organisers must be nimble and adapt quickly to what will – undoubtedly – be a rapidly changing situation.
But when we're able to hold events again, what might they look like? And what measures can we take to give people the confidence to attend?
Here are some ideas about how events might work, post-coronavirus lockdown:
Health monitoring or track and trace apps could help screen delegates and reduce the risk of the virus spreading
Provision of personal protective equipment (PPE), hand sanitiser stations and enhanced cleaning regimes could increase event safety and visitor confidence
A hybrid mix of live and virtual events could allow those who are able to travel to attend in person – and still give everyone else the chance to access the event online. This approach could also help organisers manage visitor numbers.
Larger venues could make social distancing easier to achieve. Venues with plenty of space – indoors and out – are likely to be highly sought-after, so plan ahead if you have events to organise for later in 2020 and into 2021
Smaller gatherings may also be an option, or attendance could be staggered over a number of days
Managed visitor flow with clear signage and/or stewards showing people their one-way route through the event space could help avoid people meeting face-to-face
Tighter schedules – no over-running allowed – to help keep people-flow on track, with plenty of time for room cleaning between segments
New seating arrangements with fewer chairs around large tables and seats removed from theatres, allowing delegates to sit further apart
A friendly smile could replace handshakes, hugs and kisses on the cheek – and become the only socially-acceptable greeting
Adapted networking arrangements with seats placed an appropriate distance between them so people can meet and chat safely.
The immediate future of events is still uncertain. But there are glimmers of hope that in coming months – perhaps with these measures in place – some may be able to go ahead.
So we will meet again, just not quite in the same way as we did before.
Share
While no one can deny the benefits of face-to-face contact and networking, taking your event online is currently the only way to 'get people together' safely.
You can host online events, give presentations, stream video content or network with new clients during the coronavirus crisis - and no one has to leave home.
STAY UPDATED
Be the first to know about our latest news and events.
{"popup_ID":360,"when_popup_appear":"scroll","delay":"","x_second":"","x_scroll":"30","disappear":"","exptime":"10","hideclsbtn":"","clsonesc":"1"}