What will happen to work Christmas parties in 2020?
Christmas 2020 is likely to look very different to last year's festive season.
With the 'rule of six' putting a limit on the number of people we can socialise with, plus the curfew on pubs, bars and restaurants and social distancing requirements, we're going to have to get creative when planning this year's office Christmas bash*.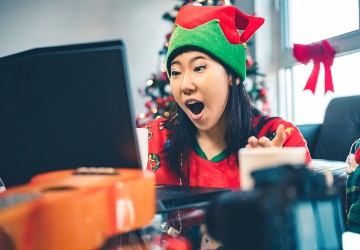 However, this year, more than any other year, work teams deserve to celebrate the festive season in some way – and it's even more important for companies to show appreciation for their employees.
The 'rule of six' is definitely this year's Scrooge – and it's looking likely it will still be in place come December. Also, many people have yet to return to the office full time, so they may not be comfortable getting together with even a small group of colleagues or travelling via public transport and taxis," Kina Events founder Alex Palmer says.
"But, thanks to technology, the festive fun doesn't have to be over. We think the safest bet is to go virtual. Move your work Christmas party to your video conferencing platform of choice, and get creative with ways to get into the festive spirit from home. As tricky as the situation is, we're excited to see what everyone comes up with to replace the usual face-to-face Christmas party!"
We recommend checking out our advice for holding successful online events and finding great online speakers, as many of the tips also apply to informal parties.
It's also worth noting that demand for Christmas party venues is predicted to be at an all-time high in 2021, so we recommend you look into options now, and even get venues on first option hold (make sure you check up-front payment and cancellation terms).
Meanwhile, in no particular order, here are some of our ideas for some online work Christmas party celebrations to get your festive creative juices flowing!
Gingerbread house decorating party
Host a workshop or competition to boost team spirit amongst your employees. Arrange for gingerbread decorating materials to be delivered to the team in advance. You could also send easy-to-cook food and drink to help get everyone into a festive mood.
Online Secret Santa
Organise a traditional Secret Santa and ask everyone to deliver a secret present by post to a workmate for a set budget. Consider sending everyone a surprise gift from the company, too, for example a pre-prepared Christmas dinner and drinks.
Virtual wine and cheese tasting
Specialist companies will deliver cheese and wine to your door and inform you about what you're eating and drinking via virtual tasting notes. What's not to love?
Zoom Christmas karaoke night
If your team is on the lively side and happy to participate, this could be one for you! And if you're not enjoying their signature rendition of Jingle Bells, at least you can put them on mute…
Christmas cocktail party
Various companies will help you run fun and informative online cocktail-making parties – perfect for getting you and your guests in the festive spirit!
Best/worst Christmas jumper competition
Ask everyone to wear a Christmas jumper or fancy dress and organise a vote for the best outfit. Send a special prize to the winning entry.
Online Christmas quiz
Everyone loves a little competition – and quizzes are also a great opportunity to reward your employees with some prizes. There are companies around who will organise the quiz for you, or there are loads of resources online.
Festive cook-a-long
Work with a virtual cooking lesson provider to send each member of your team an ingredients box with pre-prepared, weighed ingredients. Get the team together online for a cook-a-long demonstration and learn to cook (and then eat!) a delicious festive meal.
If you have any questions, need further advice or would like some help planning a Christmas party for your business, please contact the Kina Events team on 0207 205 7901 or send us an email.
---
* Please note, this post is based on regulations in England only and is up-to-date as of 8 October 2020. Different regulations will apply elsewhere and the situation may have changed since the time of writing.
Share
We can still plan events, but we need to be flexible - and have robust back-up plans in place should regulations change.
Advice for individuals and employers on how events professionals can look after their mental health and wellbeing during Covid-19
STAY UPDATED
Be the first to know about our latest news and events.
{"popup_ID":360,"when_popup_appear":"scroll","delay":"","x_second":"","x_scroll":"30","disappear":"","exptime":"10","hideclsbtn":"","clsonesc":"1"}