Are events management qualifications worth it?
There are lots of courses available for anyone wanting to start a career in events, and we're often asked if events management qualifications are worth it.
It's important to note that you don't have to have a qualification in order to become an events organiser.
Also, whether you decide to study events management or not, you'll need to demonstrate practical, real-world experience.
However if you do decide to study, having a theoretical knowledge of events management could increase your proficiency and confidence when you first start out – and give you an advantage with some employers.
So is it worth spending the time and money on training, or is it best to gain experience in the workplace?
Events management training courses
Undergraduate degrees in events management usually involve three years of study – or four if they include a work experience placement. 
Once you have a degree, it's then possible to study postgraduate events management courses which usually last a year if you study full-time.
Some training providers allow you to study part-time – either online or in person – so it's entirely possible to work at the same time as studying if that works better for you.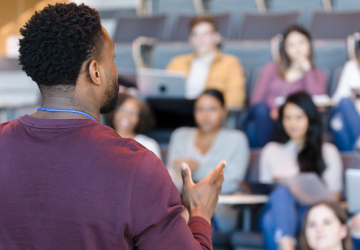 Longer term event management courses usually include an overview of theory and practice and help students build evidence of their practical experience and knowledge.
There are also lots of short courses available, many focussing on specific skills like sports event management, weddings, cultural events and venue management.
It's important to ensure the credentials of the course you're signing up for will provide the recognition you're looking for.
For example, check if the course is backed by an established university or organisation such as the Chartered Institute of Marketing (CIM).
Learning 'on the job'
Many employers will consider taking on applicants who don't have specific events management qualifications.
In fact, lots of people working in the events industry don't have qualifications in event management; perhaps because courses only became available relatively recently.
Instead of studying, they've learned the required skills through experience in the real world – for example, dealing with unexpected situations, leading a team, problem solving and negotiating.
Volunteering for student or charity events and completing work experience placements are great ways to gain this experience.
It's also possible to learn the theoretical side of event planning on the job whilst gaining experience at the same time.
Transferable skills are valuable
Courses such as business or marketing degrees are also relevant to event planner roles and are recognised by many employers.
Project management experience, administrative skills and budget management also transfer well.
So if you already have these qualifications and/or skills, they could stand you in good stead.
Updating your skills
However long you've been in the industry, it's recently become very important to know your stuff when it comes to virtual and hybrid events.
Online events have become commonplace during the Covid-19 pandemic and look likely to remain necessary, at least in the short to medium term, due to ongoing restrictions.
Many people also prefer the convenience of attending events virtually or need more time to feel confident about attending in person again.
There are lots of virtual event tech courses around, and – if it's not an area of event management you're confident about – signing up could be a good option.
Decide what's right for you
Many budding event management professionals decide to study in order to increase their knowledge and confidence before entering the workplace – and to help their job applications stand out.
It's not essential, however – and whatever route you take, you need to be able to demonstrate as much practical, real-life experience as possible.
So when deciding if events management qualifications are worth it, you have to consider what's right for you, your circumstances and your career goals.
Qualifications are good for the industry 
At Kina, we think the lack of minimum, nationally recognised qualifications for events management professionals could be a reason why the industry – and the many high-level skills required to be successful in events management – are generally undervalued.
The introduction of high quality, national qualifications could help address this issue, raising standards and recognition of the industry, its professionalism and contribution to society.
---
If you have any questions, need further advice or would like some help planning your business events, please contact the Kina Events team on 020 7205 7901 or send us an email.
Share
January is traditionally the time we set ourselves new resolutions and goals for the coming year. This new year could be a unique opportunity to look at how you want to spend the next 12 months with a fresh perspective.
Glimmers of hope are beginning to appear for the events industry with Boris Johnson's roadmap out of lockdown. It suggests that, by this summer, in-person events may finally be possible in England.
STAY UPDATED
Be the first to know about our latest news and events.
{"popup_ID":360,"when_popup_appear":"scroll","delay":"","x_second":"","x_scroll":"30","disappear":"","exptime":"10","hideclsbtn":"","clsonesc":"1"}