How to plan a Covid-secure outdoor event
If you're thinking of holding an event this summer, outdoors could be a sensible option (if the weather ever improves!).
Not everyone will be wanting to rush back to in-person events, but, compared to being in a conference room with lots of people, some might feel more confident about being in an outdoor space.
Plus, as Covid-19 is less likely to be transmitted when we're out in the fresh air, your event might be less negatively affected if the worst happens and restrictions aren't lifted as expected or new ones are in force.
If an element of your event needs to be indoors – a confidential presentation, for example – you could host other aspects outside, such as registration, networking, and meals.
Here's our advice for holding events in the great outdoors in 2021: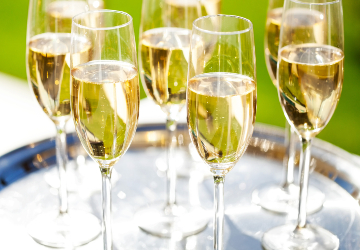 Organise your event as early as you can as the best outdoor

event venues

and suppliers are likely to be in high demand

Check, double check and triple check your event meets the

latest Government regulations

and keep up-to-date as the situation changes constantly. You may need to adapt your plans quickly

Talk to your guests before the event to find out any concerns they have about attending an in-person event. Offer an online option if suitable for your audience and event. Let those attending in-person know the measures you have in place to keep them safe and communicate any guidelines they'll need to follow, for example, wearing a mask

Ensure that – as well as meeting all the safety requirements – your event provides an enjoyable and rewarding experience for your guests and achieves your original goals

Let guests know your rescheduling plans and policies and try to make their attendance as flexible as possible

Ensure your venue has good transport links. Some people might feel more comfortable travelling in their own car, so make sure there's enough parking onsite or nearby

Work with your venue and suppliers to ensure your event is as sustainable as possible, for example, ensure as much waste as possible is recycled or reused.

Provide plenty of bins around the venue and ensure no litter is left behind

Access to sufficient power points and running water are essential checks to make with your venue

Your venue will need to be large enough to allow your guests to maintain social distancing, particularly in 'crunch' points such as registration desks and food stations

Ensure attendees have easy access to bathrooms/portable toilets with running water, handwashing facilities and outdoor power

Provide hand gel throughout your venue. This is particularly important in areas where food and drink are served and near entrances and exits

Check if your venue is holding several events on the same day. If they are, ask them how they will manage this and keep everyone safe

Make sure you/the venue have the appropriate local authority event licence for the activities you're planning and check any noise restrictions and curfews

Check you have adequate insurance – it's worth taking the time to read the small print

Have a robust back-up plan in case the weather is wet, windy, cold or all three!

Check what your venue's wet-weather plan is. If you want to stay outside whatever the weather, a well-ventilated marquee could be an option worth considering – though bear in mind they (and other outdoor event-related items) will be in high demand

Have plans in place for keeping people warm in cold weather, cool in hot weather. Heaters, shelter, shade, and fans could be good options to have on standby so you're ready for any eventuality

Good lighting can make all the difference when organising an outdoor event. If you're using a marquee, think about where the sun will set and try to position the marquee so the windows/open sides face the sun, letting in light and warmth. LED or fairy lights could also help create some atmosphere

Provide accessible seating areas for everyone – not everyone is able to climb onto a high stool, for example. Rattan sofas and/or giant bean bags are comfortable options

Place seats an appropriate distance apart so people aren't forced to sit too close to each other

Think carefully about catering

and how it will work outdoors and ensure suppliers have excellent hygiene measures in place. Barbecues or food cooked to order by street food vendors could be good options.
If you have any questions, need further advice or would like some help planning your business events, please contact the Kina Events team on 020 7205 7901 or send us an email.
Share
Let's use the Covid-19 pandemic to kickstart a transformation and help the events industry set the standard on sustainability.
The events industry is waiting with bated breath as the UK Government's pilot events swing into action. So should you start planning that large, in-person business event?
STAY UPDATED
Be the first to know about our latest news and events.
{"popup_ID":360,"when_popup_appear":"scroll","delay":"","x_second":"","x_scroll":"30","disappear":"","exptime":"10","hideclsbtn":"","clsonesc":"1"}