17.08.22 - Better events Industry news News Trends Venues
How to tempt people back to in-person events
Face-to-face events are finally back in business! But how do you tempt people back to in-person events when they're used to attending virtually from home? 
Well, the post-pandemic reality is that it's going to take a lot more for some people to leave their home or office and travel to your event.
People have been dipping in and out of events online as and when other work commitments allow, saving both time, money and energy.
So, for some, it's no longer enough to offer a goody bag and a standard networking event – they need a meaningful return on investment and a special experience if they're going to make the extra effort.
Read the Kina Event team's top five expert tips on how to tempt people back to in-person events:
Choose an exciting venue
Choose a beautiful or unusual venue in a desirable location that people will be keen to visit.
Have a clear idea of what your attendees want, creating a list of venue requirements that will both excite and reassure them.
Consider a larger venue that allows for social distancing and already has excellent health and safety procedures in place.
Communicate the safety measures you have in place as soon as you can: it'll help anyone concerned about catching Covid-19 decide if they're comfortable to attend.
Make it exclusive
For many people, content alone is no longer enough to persuade them to attend an event in person, especially if they can access it online.
So it's important to provide an experience that offers more than your pre-Covid events.
Keeping what your audience wants front of mind, ensure attending will provide them with something they value highly (and can't get anywhere else).
Examples of this include:
Early/exclusive access and interaction with desirable new information or a new product 

The opportunity to take part in a round-table conversation with a

high-profile speaker

Pre-selected networking opportunities – so your attendees know in advance that they'll make quality connections with exactly the right people 

Create a special experience that engages your guests' senses of sight, touch and smell

The opportunity to attend a VIP cocktail hour or gala dinner.
Serve fabulous food
Dried-up sandwiches and meagre vegan offerings weren't okay before the pandemic, and they're definitely not acceptable now.
Reward guests who've made the extra effort to attend an in-person event with good quality, healthy, interesting food and drink, including thoughtful options for those with dietary requirements.
Use top notch tech
Technology can help connect and engage with your attendees before, during and after your event.
For example, an event app can help create some buzz and personalise the experience for each attendee, helping them make connections and schedule appointments before they've even arrived.
On the day, VR headsets could be a way to stimulate your guests' senses and provide an exciting experience they'll remember.
For example, you could provide an exclusive virtual guided tour of a spectacular place or a new and innovative product.
Create FOMO
Once you're confident your event is special and will deliver beyond peoples' expectations, it's time to create FOMO (the fear of missing out):
Let your audience know that places are being snapped up

Send personalised invitations to people, making them feel they're part of an exclusive group and that the event is super-relevant to them

Share teaser videos of what it will be like to attend.
These persuasive communications will help make your audience feel that your in-person event experience is not to be missed!
If you have any questions or would like some help planning your business events, please contact the Kina Events team on 0207 205 7901 or send us an email.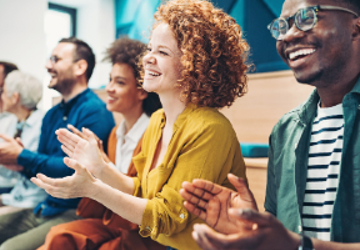 Do you want to get your staff together to reconnect, talk strategy or take part in team-building activities? Read our insider tips on the best luxury country house-style venues for residential off-site meetings.
It's no longer acceptable to gloss over sustainability issues when planning events - taking visible, positive action is an absolute must. So now's the time to ensure you and your event don't get left behind! But how should you go about it?
STAY UPDATED
Be the first to know about our latest news and events.
{"popup_ID":360,"when_popup_appear":"scroll","delay":"","x_second":"","x_scroll":"30","disappear":"","exptime":"10","hideclsbtn":"","clsonesc":"1"}