How to use data to personalise event experiences
We're all used to receiving personalised content and experiences from businesses and organisations we interact with.
For example, a clothing brand might send us an email showcasing items they think we'll be interested in, based on our purchasing or browsing history.
Or a TV subscription service will suggest programmes or films we might like to watch based on previous viewing choices we've made.
Events organisers can now offer personalised experiences to their audiences, thanks to the data we're collecting through virtual and hybrid events platforms and apps.
Offering a genuinely personalised experience helps keep event attendees highly engaged and reduces the risk of turning them off with irrelevant information.
Get to know your audience
Event registration is an obvious opportunity to gather information about your attendees. 
As well as basic information like their name, company and email address, you can ask them relevant questions about themselves and their event preferences.
But remember to keep it quick and simple or you might put them off.
If you use their responses to make customised tweaks to their event journey, it will vastly improve your attendees' experience, leading to improved loyalty and engagement.
Tailoring communications about the sessions, content, speakers and networking opportunities in ways that will appeal to the recipient is a great way to engage them, for example.
In fact, every interaction you have with an event attendee offers data that can be used to inform your next engagement with them.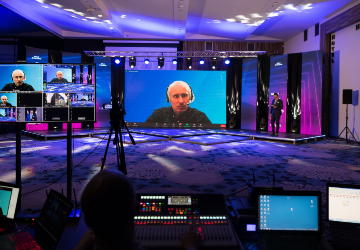 Create a data strategy
In order to gather the data you need, it's really important to plan ahead. 
We advise creating a strategy for collecting that data via your website, online event platform and other touchpoints – and have a plan in advance for how you'll use the information you've gleaned to personalise attendees' future experiences.
The options for data you can collect are pretty much endless, but might include:
Registration data

Session enrolment

Pre-event surveys

Campaign opens, clicks, views, form fills, conversions

App downloads/logins

Session attendance

Session duration

Session feedback

Speaker ratings

Session ratings

Poll responses

Booth visits.
Continuously refine and improve
After each event, as you begin to understand your audience better, your personalisation programme can adapt and become even more effective.
It's well-worth segmenting data by the different elements of your event so, for example, you can tell if people who attended a specific session converted to a lead for you or a sponsor. 
These insights will help you identify which elements of your event worked best, allow you to create profiles for different types of audience members and make your next event even more targeted and personalised.
---
If you have any questions, need further advice or would like some help planning your business events, please contact the Kina Events team on 020 7205 7901 or send us an email.
Share
Hybrid and virtual events have been a brilliant way to continue holding events during the Covid-19 crisis - but how can you make money from them?
Hybrid events may not have been on your radar a year ago - but, thanks to Covid-19, have they become the future? In the past, hybrid events were often an afterthought and involved a livestream or recording of event proceedings that were broadcasted to virtual attendees. Now, however, we've learned that so much more is possible - and virtual audiences' expectations have risen.
STAY UPDATED
Be the first to know about our latest news and events.
{"popup_ID":360,"when_popup_appear":"scroll","delay":"","x_second":"","x_scroll":"30","disappear":"","exptime":"10","hideclsbtn":"","clsonesc":"1"}