How to hold successful virtual networking events
Virtual and hybrid events are having a moment – but the general consensus is that virtual networking is difficult to get right. 
Problems with technology, the inability to read body language and poor moderation can all make networking an unsatisfactory experience for online event attendees.
What can you do to ensure your event doesn't fall into these traps? 
Check out these tips from Kina Events experts:
Define your goals
What do you want the networking element of your event to achieve – and what does your audience expect to gain from attending? 
You need to ensure that their participation in networking activities helps meet these expectations and provides value.
Keeping these aims front of mind will help you select the right format, activities and technology.
Plan the format carefully
Getting the format right is crucial and should align with your event goals.
You might include one or several types of structured or 'free-form' networking, depending on what you want to achieve.
These could include a Q&A with a well-known industry leader, a panel discussion with questions from the audience and/or breakout rooms.
It's worth bearing in mind that virtual networking is unlikely to be a satisfying experience for anyone if there are too many people trying to interact at the same time. 
Options include keeping your event small, or you can split your audience into separate groups for networking sessions.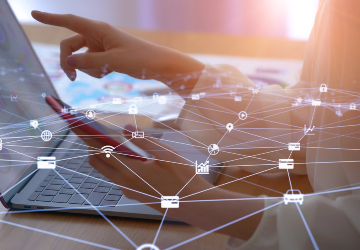 Pick the right technology
Virtual event tech platforms have evolved quickly in the last 18 months and there are plenty to choose from.
Again, remember your audience's needs when deciding which platform to use.
For example, does it have an easy-to-use chat box and/or is it possible to hold icebreaker activities to help get people talking?
Share instructions and guidelines
If you let people know the format of the event, how things will work and set guidelines in advance, people will be more likely to turn up ready to participate.
And for introverts in particular, the more information you can share beforehand the better.  They'll feel much more comfortable if they know exactly what to expect.
Choose an experienced online moderator 
A good moderator is key to successful virtual networking. They'll be able to spark conversations and ensure everyone has a chance to speak.
They'll also help reduce potential problems caused by attendees not being in the same room – for example, interactions can feel more awkward as it's hard to read body language.
A key part of their role is also to ensure guidelines are followed and generally keep your event on track.
Keep it short and sweet
Even the most engaged attendees will tire more quickly at an online event compared to in-person. We suggest a maximum event length of 90 minutes. 
You should also ensure the event finishes on time, even if networking is in full flow – it's far better to end on a high than run out of steam.
It's also good to help your attendees keep the conversation going long after the event is over, perhaps via a community room on a virtual event platform, or via social media.
Keep learning
Everyone is learning how to best facilitate online networking, so keep a close eye on your attendee feedback and analyse data from your virtual event platform. Then refine your plan for your next event!
---
​​If you have any questions, need further advice or would like some help planning a business event, please contact the Kina Events team on 0207 205 7901 or send us an email.
Share
While no one can deny the benefits of face-to-face contact and networking, taking your event online is currently the only way to 'get people together' safely.
As Covid-19 restrictions ease and we start to plan ahead, now's the perfect time to look for the best speaker for your online, hybrid or in-person event.
STAY UPDATED
Be the first to know about our latest news and events.
{"popup_ID":360,"when_popup_appear":"scroll","delay":"","x_second":"","x_scroll":"30","disappear":"","exptime":"10","hideclsbtn":"","clsonesc":"1"}