22.10.23 - Better events Career development Event strategy Industry news News Technology Trends
The rise of AI: how artificial intelligence will affect the events industry
Everyone's talking about AI and how it can be used to help plan events.
But how will it impact what we do day-to-day and will it make events better? 
In case you missed it, artificial intelligence is the simulation of human intelligence allowing machines to complete tasks which previously required human thinking.
Many of us already use AI in our daily lives (for example, asking Alexa or Siri to complete a task for us) – but now AI is emerging as a major new technology in the events industry.
Alex Palmer, founder of Kina Events, says:
AI won't replace event professionals' vital skills – or at least not for a good while!

"For now, I think it will save us time on repetitive tasks, allowing us to focus on what we're best at.

"So we shouldn't see AI as a threat. Instead event professionals should spend time learning how to use it to make events even better."
If you haven't experimented with an AI platform and would like to have a go, ChatGPT is very accessible – and there's even a free version you can try.
Meanwhile, here are four ways event planners can make use of AI technology:
AI can save hours of your time
Chatbots powered by AI can handle routine queries about your event, reducing your workload and ensuring that attendees receive an immediate response.
AI programmes can also be used to carry out initial venue research, help calculate budgets and plan staff schedules.
Improved event personalisation with AI
It's possible to analyse event data and demographic information using AI – then use it to make highly personalised recommendations for each event attendee. 
For example, AI algorithms can suggest sessions or networking opportunities an individual attendee is likely to be interested in.
And thanks to wristbands collecting data as people walk around an event venue, this can even be done in real-time!
Done well, AI-driven event personalisation can help create amazing experiences that feel extremely relevant to attendees.
AI boosts accessibility 
AI can transcribe speech into text instantly, so, for example, it can be used to help anyone who is hearing-impaired to easily participate in your event.
It's also possible to translate what's being said into different languages in real-time, making your event even more inclusive.
Achieving sustainability with AI
AI is perfect for number crunching and can use historical data to predict how much food and drink you might need for your next event.
This will help prevent over-ordering, reduce food waste and ensure your events are as sustainable as possible.
Alex says:
Of course there are still many challenges to be overcome – including how individuals' data is used and the potential for bias in AI algorithms. 

"But, overall, I'm excited for the opportunities this new technology offers our industry: we should all embrace it."
---
If you'd like to talk to us about your business events, please contact the Kina Events team on 0207 205 7901 or send us an email.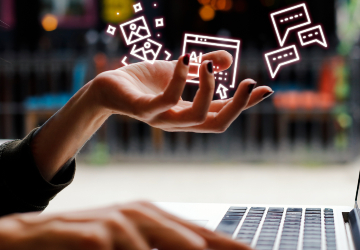 From virtual reality to artificial intelligence, there are now a wide range of technologies that can be used to create, manage and deliver events. Even if you have a good understanding of event technology, it can be helpful to have an event technologist on your team.
While no one can deny the benefits of face-to-face contact and networking, taking your event online is currently the only way to 'get people together' safely.
STAY UPDATED
Be the first to know about our latest news and events.
{"popup_ID":360,"when_popup_appear":"scroll","delay":"","x_second":"","x_scroll":"30","disappear":"","exptime":"10","hideclsbtn":"","clsonesc":"1"}