How to organise a marquee event
A beautiful marquee in a unique location is a stunning venue for a corporate party – but how do you organise a marquee event?
Marquee events can be time consuming to plan, particularly when it comes to logistics – but they're worth it for the increased location options and the opportunity to create the exact event space you want.
Founder of Kina Events Alex Palmer said: "If you're thinking of organising a summer marquee event, you'll need to carefully consider the practicalities.
"Almost anything is possible, but the more challenging and complex the site, the more time consuming and expensive your event will be.
"Also, if you have your heart set on a date – particularly over the summer months – it's worth booking early to avoid disappointment.
Here are our expert tips for organising a marquee event:
Thoroughly research marquee suppliers
When choosing your marquee supplier you should consider:
Do they offer the services you require?

Have they provided a detailed and easy-to-follow quote?

Will they provide diagrams or CAD designs to help you envisage exactly what the space will look like?

Will they visit your chosen site to ensure the design is practical?

Do they have sufficient insurance?

Are they members of a trade association, eg

MUTA

?

Do they comply with relevant Construction (Design and Management) regulations?

Do they have good working relationships with your other suppliers?

Have they been recommended by someone you trust?
Remember it's not just the marquee you need to book, as organising a marquee event usually involves working with caterers and other suppliers, and they'll all need to be available.
Marquees can also take days to construct and dismantle, so it's important to allow plenty of time.
Always create a detailed schedule so you know what's being delivered or collected and when, bearing in mind the order in which jobs need to be done. For example, the marquee needs to be built before any interior decoration can be delivered and installed.
Choose your event site and space carefully
Think carefully about the space you have available for your marquee – do you need space for tables and chairs, or will it be standing room only?
Different types of marquee will offer different benefits, for example traditional marquees, stretch tents and Capri marquees can look very attractive, but require lots of internal poles and guy ropes, so may not be suitable if you're looking for a completely open plan space.
Frame marquees, however, don't require internal poles, can be joined to buildings easily – and perform well in bad weather.
As always it's important to have backup plans for different weather scenarios, so ensure your marquee can be made weatherproof – and that there's enough space for your guests to be inside the marquee for the whole event if necessary.
Some open sided areas or patio style doors can be a good option to have available, allowing guests to flow in and out of your marquee, shelter from a rain shower or find shade.
You'll also need to consider the space required for catering and utilities, such as hidden spaces for food preparation, changing rooms and storage. 
Check if there's enough space for your entertainment – for example, bands will usually provide a minimum stage size to ensure there's room for their instruments and sound equipment.
Sufficient parking space for your guests and suppliers is another very important consideration when choosing a site. And is there access for large vehicles to reach the marquee area and to manoeuvre and park?
Other important questions include:
Are there any time restrictions for events – including for setting up and dismantling your marquee?

Is any noise created by your event likely to bother neighbours?

Will your marquee be built on grass or hard standing? If it's the latter and ground stakes can't be used, weights may be needed to secure it

If the site isn't completely level, your marquee may need a subfloor

Are there any utility pipes hidden underneath your planned site? It's worth checking for the safety of your team – especially if they're using ground stakes to secure your marquee.
The boring but essential bits
Sound systems, lighting, entertainment and catering all require a significant amount of power and cabling.
It's essential to ask a qualified expert to calculate the power requirements of your event, and if there's a mains power supply ensure that it's up to the job. You'll also need an expert to lay electrical cabling safely.
If there's no mains supply or it's not sufficient – or you (wisely) want a backup in case of power failure – then you'll need to hire a suitable generator.
And don't forget the loos! Always a vital part of event planning, ensure you provide sufficient facilities for the number of people attending along with walkways, signage and lighting as needed.
You'll also need to check you have first aiders and kit on site – and no matter how thoroughly you plan, there's always a task like last minute printing to be done, so make sure you have all your event day essentials with you.
Remember the details
One of the benefits of holding a marquee event is being able to make the most of a unique setting.
If you've chosen a location with a stunning view or a striking building, then make sure you make the most of these when planning your marquee. 
For example, you could choose a marquee with roof cover and open or transparent window walls to provide your guests with shelter whilst allowing them to enjoy the views.
It's also worth thinking about using lighting to help you make the most of attractive features and guide guests through the space.
For example, you can use strings of lights and lanterns around trees, or uplighters to draw attention to a stunning statue or nearby building.
You can also add some standout finishing touches with dramatic roof space linings, spectacular chandeliers or a feature dancefloor. 
If you have any questions or would like some help planning your business events, please contact the Kina Events team on 0207 205 7901 or send us an email.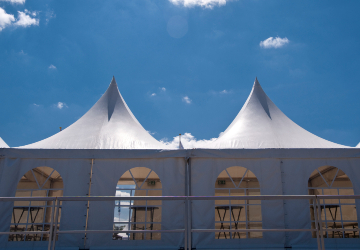 Running an event is time-consuming and stressful. Thankfully, working with an event management company can solve these problems for you - and lots more. Read about just some of the many benefits of working with an event management company
Rooftop venues or those offering wonderful views of London provide corporate guests with a relaxing and memorable experience. Here are our favourite outdoor summer drinks venues in London to provide you with some ideas and inspiration!
STAY UPDATED
Be the first to know about our latest news and events.
{"popup_ID":360,"when_popup_appear":"scroll","delay":"","x_second":"","x_scroll":"30","disappear":"","exptime":"10","hideclsbtn":"","clsonesc":"1"}